Brands Troll Careem Over Its Latest Billboard Ad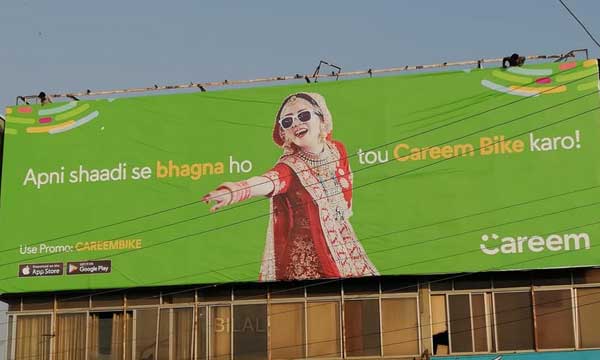 Brands taking a dig at one another is the latest trend in town. And one such incident has taken place with Careem, which is giving a lot of people a good laugh and providing with some level of entertainment.
Only this week, social media had a great meltdown after Careem's latest billboard, featured a runaway bride sparked a massive debate. In an effort to promote its bike service, the ride-hailing brand launched a marketing campaign with a catchphrase 'Apni Shadi se Bhagna hai to Careem Bike karwao' (If you want to run away from your own wedding call a Careem Bike).
While a lot of the people saw the ad as good humoured, many thought that it was against the norms of the Pakistani society and Careem should have opted for more responsible means to promote its services (Read the full story here).
Interestingly, other brands have started to take a dig at Careem and cash on the controversy surrounding their latest ad.
Social Media Agency, Linking Media, Schooled Careem For Targeting Cultural Norms
https://www.facebook.com/linkingmedia/photos/a.1427656860681588/2150197891760811/?type=3&theater
OLX came out with a laughable pun
https://www.facebook.com/olxpakistan/photos/a.363559400342794/2346545022044212/?type=3&theater
Daraz Took Up The OPportunity to Promote its Own Products
https://www.facebook.com/darazpk/photos/a.115385378605115/1605797426230562/?type=3&theater
Servis Tyres Also Came Up With a Witty Response
https://www.facebook.com/servistyre/photos/a.449801778389594/2089268281109594/?type=3&theater
What do our readers think about this Careem ad controversy and the brand's responses towards it? Share your thoughts in the comments section below