Careem's Latest Ad Campaign Sparks Debate on Social Media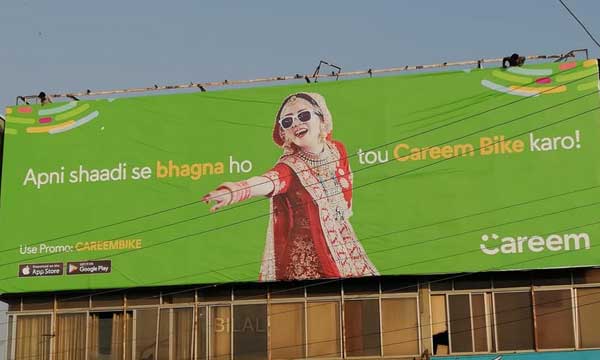 Careem Pakistan is known for its marketing campaigns that are smart and witty. However, the brand's latest campaign tried to take a very different take to promote its Careem Bike service, which does not seem to sit well with a part of the population.
A billboard was put up which read 'apni shaadi se bhaagna ho tou Careem Bike karo!' (If you want to run away from your own wedding call a Careem Bike). The billboard also portrays a girl all dolled up for her wedding and is happily ready to become a 'runaway bride'.
Some see Careem's campaign as a light-hearted attempt at humour, while others have spoken against the brand claiming that they have crossed a line by promoting such actions. The concept being used goes against the cultural values and traditions and encourages unconventional behavior. On another note, it does raise the issue of forced marriages.
Here's what the responses have been like
Dnt play with our Norms and culture For ur Business Here…find some sensible script which will get Careem some respect not attention! #Careem

— VEENA MALIK (@iVeenaKhan) March 18, 2019
I don't understand how people can be triggered by free will. Usko nahi kerni shadi, would bhaag Rahi hai, tumhay Kya hai? Aur acha hai #Careem Kay sath bhaag Rahi hai, not some Anwar @CareemPAK pic.twitter.com/EecqznNMmy

— Ali Gul Pir (@Aligulpir) March 18, 2019
Abhi to shaadi pai itna kharcha kiya hai to phir ride pai kyoun kanjoosi, koi car ride hee karva lo, tire mein dupatta bhi nahein phassay ga aur chupna bhi asaan. #careem #CareemAd pic.twitter.com/43JHMJnKEd

— Mooroo (@Mooroo4) March 18, 2019

So what do our readers think about Careem's latest ad campaign? Share your thoughts in the comments section below.