Vlogger Rosie Gabrielle Is Furious With Pakistanis For Disrespecting The Land of The Pure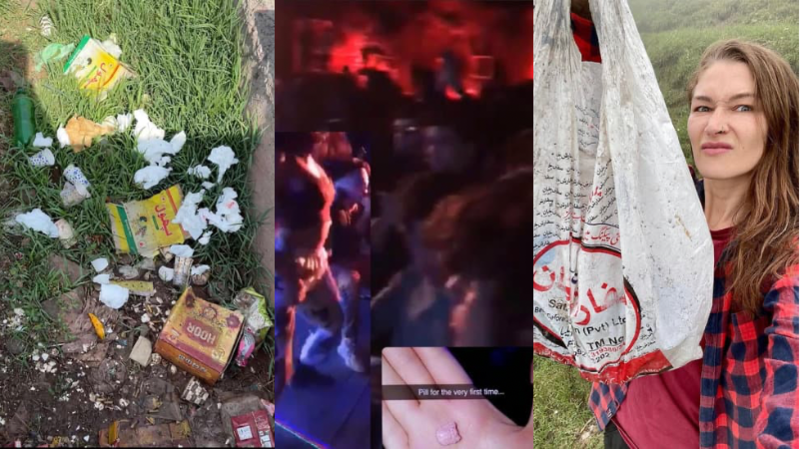 Hunza – the region, adored and owned by locals, is viewed as another disposable exotic vacation spot for city dwellers. This point was highlighted when a music festival was recently held in the region. Canadian travel vlogger Rosie Gabrielle has been on a mission to motorbike around the world and is currently in Hunza. Some locals reached out to her with their concerns, hoping she would use her platform to help them. She shared their words in an Instagram post titled Keep the North Pure.
The post has pictures of the pollution caused by festival goers, a collage of images from the event and screenshots of her conversation with aggrieved locals.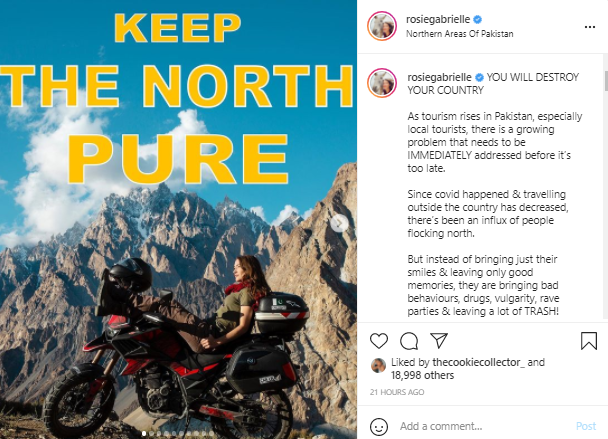 Rosie's sentiments are as follows:
YOU WILL DESTROY YOUR COUNTRY. As tourism rises in Pakistan, especially local tourists, there is a growing problem that needs to be IMMEDIATELY addressed before it's too late. Since covid happened & travelling outside the country has decreased, there's been an influx of people flocking north. But instead of bringing just their smiles & leaving only good memories, they are bringing bad behaviours, drugs, vulgarity, rave parties & leaving a lot of TRASH!
One of my worst experiences in Pakistan was when I started to go north. If you followed me then, you'd see I almost had a nervous breakdown from the amount of disturbance I received from local tourists. I can't even imagine what locals experience every day. It was so bad I ran far into the mountains for many weeks to escape these people.
I understand that people need to express themselves, release pent up energies & get out of their suffocating lives. But coming to a sacred land, feeling privileged & entitled to destroy it, bringing your toxic habits to innocent communities is NOT okay! By introducing these behaviours & substances ur destroying a culture. By leaving your trash, ur demolishing the land, & disrespecting the house of God.
It is not your RIGHT! At this rate, without responsible tourism in the north, there'll be nothing left. 😭 The communities & youth need our support & love, not filth. They have one of the highest suicide rates in Pakistan, and with the exposure of these things, it will only worsen. Instead of raves, create workshops and make music. Bring your skills, not your drugs, show love, not vulgarity. And for GODS SAKE, CLEAN UP YOUR TRASH.
I received countless msg's from local Hunza people, PLEADING me to help stop this carnage. They are losing their traditional values, indigenous cultures & land. Because this world is not ours to destroy. These lands & cultures are not yours to abuse.
If you are angry or repressed, find a way to process it in a healthy way and give back to the communities you visit. The most healing thing you can do for yourself is to be in nature, nurture yourself and give back to others.
The north is PURE, PLEASE KEEP IT THAT WAY 🙏🏼 or STAY HOME !


The common sentiment is that while they appreciate people coming to enjoy the beauty of their land, they don't appreciate them bringing the rubbish and pollution of the city with them. They complained about how recent tourists have been spreading "vulgarity" and "drug culture". The locals feel that these problematic things are veiled behind the screen of arts and entertainment, and argued that there are better ways of doing so. They believe their values are being threatened.
A sentiment shared by the locals was echoed by Gabrielle, who maintained that locals love welcoming tourists, it's just their practices they disapprove of. They welcome musical events and workshops to exchange skills, but what's going on right now is viewed as a threat to their culture.
We, too, believe tourists should respect the feelings of the residents of the areas they're visiting and respect their culture.