Sajal Aly and Ahad Raza Mir winning hearts in new web series, Dhoop Ki Deewar!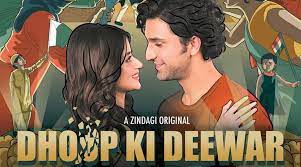 The trailer for the latest ZEE5 Exclusive web series, "Dhoop Ki Deewar", recently dropped and has been making quite the impact across border as well. The web series includes many notable Pakistani actors including Sajal Al, Ahad Raza Mir, Samiya Mumtaz and Samina Ahmed. Written by Humera Ahmed and directed by Haseeb Hasan, the we series is set to launch on 25th June.
The trailer shows two families, from Pakistan and India, watching cricket. Story involves two families with martyrs from the Kashmir conflict, and a clear animosity between the two. Sajal Aly stars as Sara Sher Ali and Ahad Raza Mir (Vijay Malhotra) belongs from an Indian family who are both children of martyrs but are united by same emotions of grief which makes way for a tabooed and intolerable friendship.
The show promises to bring to light a fresher perspective of the Indo-Pak conflict over the Kashmir territory and does not show a winning side, but rather focuses on the losses suffered from both sides.
The trailer is of three minutes and can be found on YouTube.