Turkey Needs Everyone's Prayers As More Than 60 Fires Burn It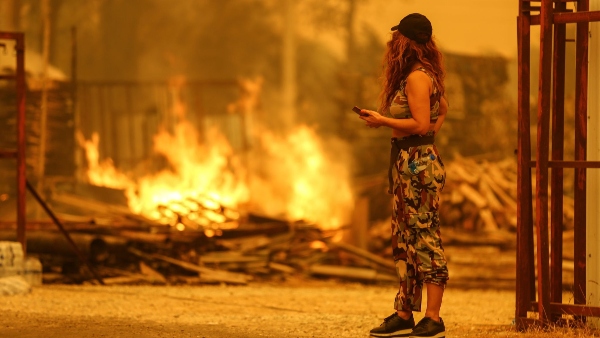 MANAVGAT, Turkey, July 29 (Reuters) – Three people died in a forest fire in southern Turkey on Thursday where authorities were battling multiple blazes for a second day amid suspicions of arson, the country's AFAD disaster agency and the agriculture minister said.
Dozens of villages as well as some hotels were evacuated, and television footage showed burnt buildings and people fleeing across fields as firefighters on the ground and in helicopters tried to contain a blaze in Manavgat, 75 km (45 miles) east of the Mediterranean resort of Antalya.
Officials have said that more than 60 wildfires have erupted across 17 provinces on Turkey's Aegean and Mediterranean coasts this week, with the presidency vowing to hold to account those responsible for the "attacks".
Of those wildfires, 36 have been contained, but firefighting efforts for the remaining 17 continue, with more than 140 people requiring treatment or suffering property damage, according to AFAD.
Agriculture Minister Bekir Pakdemirli said an 82-year-old man had been found dead during the evacuation of Kepezbeleni, 16 kilometres northeast of Manavgat, and two people were found dead in Degirmenli, 20 kilometres east of Manavgat.
He said 18 villages and districts had been evacuated in Antalya, along with 16 others in neighbouring provinces of Adana and Mersin, as fires spread around Manavgat on Wednesday, fanned by strong winds in hot weather. Authorities also evacuated a Manavgat hospital. 
Is This Normal?
One question being raised is "is this due to global warming?" The answer to this can potentially be a yes. This season is called the 'fire' season in Turkey as temperatures are at their highest. However, fires erupting one after the other at this scale are unusual and unexpected. It has never gone out of hand at this rate. It has been said that the damage was unprecedented this time, with flames devastating entire villages.
Since they began, more than 60 forest fires were reported in the past two days. 43 among them have been brought under control with cooling efforts underway. In total, some 4,000 firefighters, three planes, 38 helicopters, hundreds of fire trucks are currently battling the flames.
Stay tuned to Brand Voice for more news and updates!