This Burger Joint in Lahore Doesn't Seem to Understand Corporate Social Responsibility & it's Worrying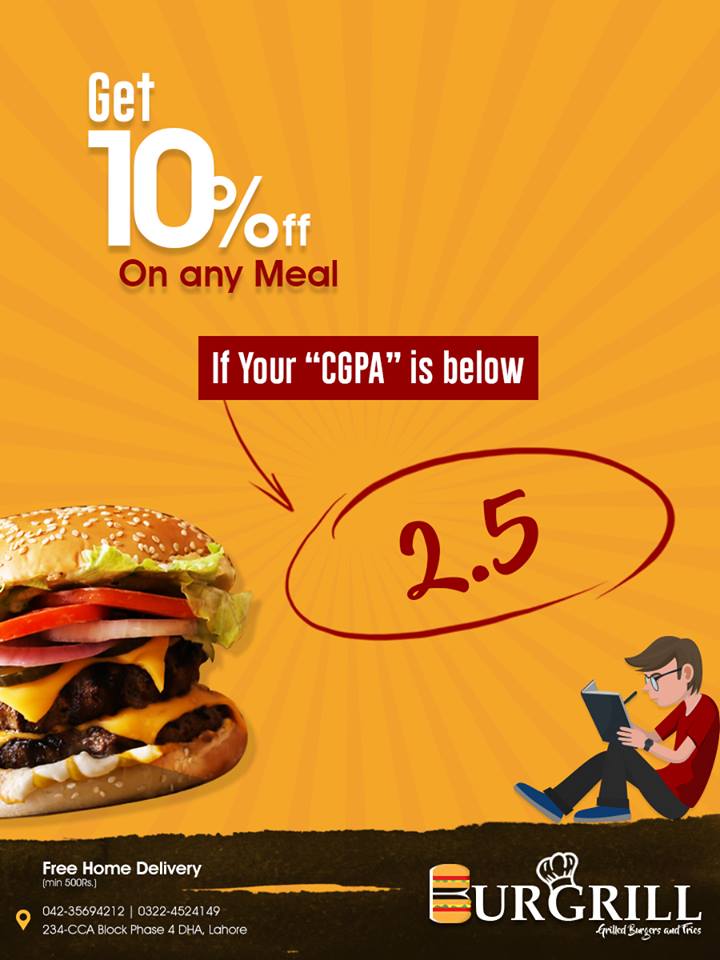 Over the years, Pakistani eateries seem to have tightly grasped the idea of offering all sorts of discounts in order to lure maximum number of customers and keep them satisfied.
However, there is one thing that brands seem to overlook even in this enlightened day and age and that is the notion of corporate social responsibility.
Corporate social responsibility is a type of international private business self-regulation. According to this concept, a business engages in actions that appear to further some social good, beyond the interests of the firm and that which is required by law.
Only recently, a fast food joint in Lahore, was advertising and promoting an offer whereby it encouraged school going students to bunk classes and avail discounts. Read more about it here.
This time, a burger joint located in Lahore has come up with an idea to offer discounts to students who have a cgpa below 2.5
https://www.facebook.com/burgrill.pk/photos/a.250311592069574/606392773128119/?type=3&theater
While the restaurant aims to encourage students to satisfy their hunger cravings during exam season. However, promoting the idea of rewarding students who perform below average in universities should not be the way to go. A better option would have been to reward students who perform well in academics and serve incentives in order to encourage growth and responsibility in the student body.
People did not like the concept for obvious reasons and were vocal about it



What do you think about this marketing strategy? Do let us know in the comments below.