The Whirlpool of Fire in Yucatan Peninsula!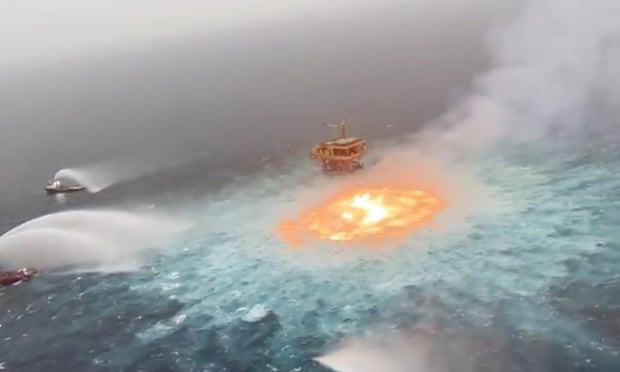 On 2nd July 2021, a whirlpool of fire was seen in the Mexican Yucatan Peninsula after a gas leakage was set ablaze. Viral videos of the incident were seen all over social media. Bright orange flames were seen pouncing from the middle of the ocean and has been referred by people as the "eye of fire".
The state oil company, Pemex, reported that the incident was due to a gas leakage in an underwater pipeline which connected to Pemex's flagship Ku Maloob Zaap oil development platform, located around the southern rim of the Gulf of Mexico. The fire ignited at approximately 5:15am local time and was extinguished by 10:30 am, in five hours.
The oil company has stated that they will investigate the cause of the fire and also further clarified that the incident did not generate any spill and that it also shut the valves of the 12-inch pipelines. No injuries have been reported.
Though the fire has been extinguished but it has sparked, once again, a debate on how capitalism is aggravating climate change and the ignorant and sheer stubborn stance of global fossil fuel extraction companies is what is leading to environmental disaster.
Here are the videos of the incident:
Here is what many people had to say about the incident: