Faysal Quraishi Loses His Cool After TikTokers Slap Each Other On Live Camera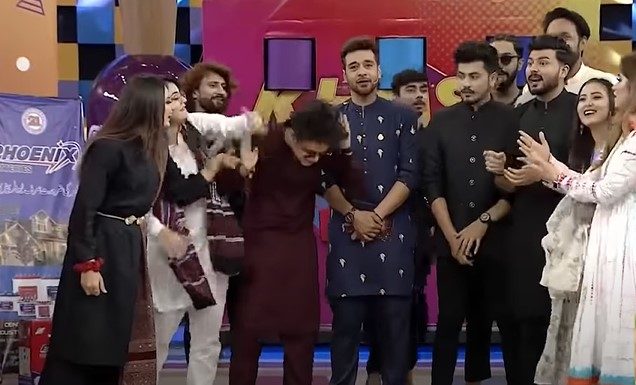 The world of TikTok and the people behind it are full of scandals and controversies. In another incident of failing to adhere to the decorum on television, a few TikTokers were spotted hitting each other on a live game show. The show was being hosted by Faysal Quraishi, who lost his cool after witnessing their behavior.
In a recent segment of his game show, TikToker Muskan repeatedly hit another male influencer, while everyone was wishing a couple of other performers a happy birthday. The move irked Faysal Quraishi and he shouted,
'What are you doing?! You've made this game show a joke. You're slapping him on-air!
The host then threw the cue cards and walked away calling all influencers present jaahil (ignorant).
"Kahan se laye ho yaar yeh badtameez, jaahil log (Where did you get these ill-mannered, ignorant people from)?" he asks.
The clip is going viral on social media, with many hailing the Muqaddar actor as their hero for teaching the influencers/TikTokers a lesson.
As the incident became a hot topic and turned into a new controversy, the actor took to his Instagram Story to clarify his stance. He wrote,
"Trying to correct somebody doesn't mean pulling another down. I'm at a stage where I don't want to continue being in the zone where trolling is happening because it's also a form of abuse."
The star is unable to understand why people 'obsess over everything that fuels 'negativity.'
Do you agree with him? Let us know in the comments.