Roger Federer plays last match of career alongside Rafael Nadal at Laver Cup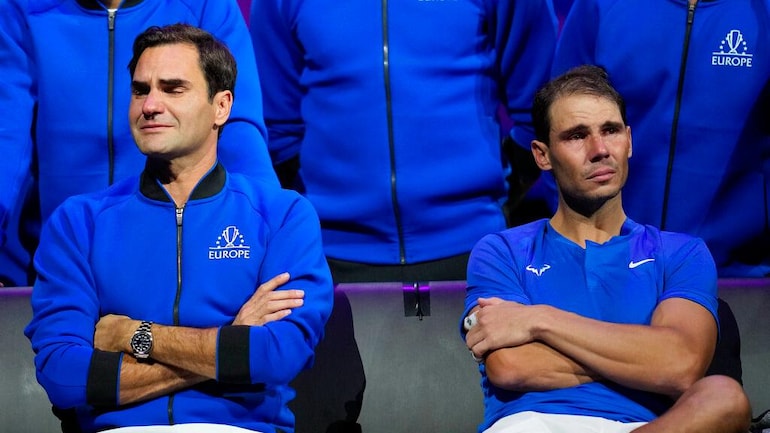 Roger Federer played the last match of his professional career alongside Rafael Nadal at the Laver Cup in London on Friday night, holding match point but ultimately falling to Americans Jack Sock and Frances Tiafoe in doubles, 4-6, 7-6 (2), 11-9.
"It's been a wonderful day," a teary-eyed Federer said in his on-court interview.
"I told the guys I'm happy, I'm not sad. It feels great to be here. I enjoyed tying my shoes one more time—everything was the last time. Funny enough, with all the matches and having the guys being here, and fans, family, friends, I didn't feel the stress so much, even though I did think something was gonna go—pop a calf or block a back, or something in the match. I'm so happy I made it through, and the match was great, I couldn't be happier. So it's been wonderful.
"And of course playing with Rafa on the same team, and having the guys, everybody here, all the legends, Rocket, Edberg, Stefan, thank you."
It was the 1,750th and final match of Federer's career, singles and doubles combined, and just by finishing it, one of the Swiss' most impressive stats will stay true forever—he's never retired from a tour-level match in his career.
1,750 career matches, zero retirements.
He's played 1,526 career matches in singles, going 1,251-275 in those, and now 224 career matches in doubles, going 131-93 in those.
With the packed crowd cheering on their every move, Federer and Nadal stayed on serve with Sock and Tiafoe for the bulk of the first set, with Federer even drawing gasps with a through-the-netpost forehand in the third game of the match, which was eventually determined out of bounds and the point given to Sock and Tiafoe:
But Federer and Nadal held in that game for 2-1 anyway, and after fighting off the first break point of the match to hold for 5-4, they brought out some of their very best tennis in the next game—including a sensational inside-out forehand angled passing shot from Nadal and a flawless forehand volley winner from Federer—to finally get the first break of the match and clinch the first set after 42 minutes.
The second set was full of momentum shifts. First Federer and Nadal held quickly to carry their momentum into a 6-4, 1-0 lead, then Sock and Tiafoe reeled off three games in a row for a 3-1 lead, then Fedal bounced right back with three games in a row of their own to go up 4-3—but then the two teams went into a holding pattern from there until the tie-break, where the Americans caught fire from 3-2, winning the last four points in a row to clinch it, 7-2, and send the match to a 10-point tie-break.
And there were more momentum shifts to come—Federer and Nadal jumped out to an early 3-0 lead in the match tie-break and even held match point on their serve at 9-8, but the American duo was just too tough, fighting off that match point and eventually clinching the victory with one last Sock forehand winner.
It was the second time Federer and Nadal have ever played a tour-level doubles match together, their first time coming at the Laver Cup in 2017, in Prague. The two defeated Sock and Sam Querrey in a match tie-break in that one, 6-4, 1-6, 10-5.
In his pre-tournament press conference on Wednesday, Federer had expressed his hopes that he could play one last doubles match at the Laver Cup, and with Nadal.
"I don't know if it's going to happen, but I think it could be obviously a special moment," he said. "For us to go through a career that we both have had and to come out on the other side being able to have a nice relationship, I think is maybe a great message as well, not to just tennis, but sports, and maybe even beyond.
"For that reason I think it would be great."