Mariyum Aurangzeb heckled in London street coffee shop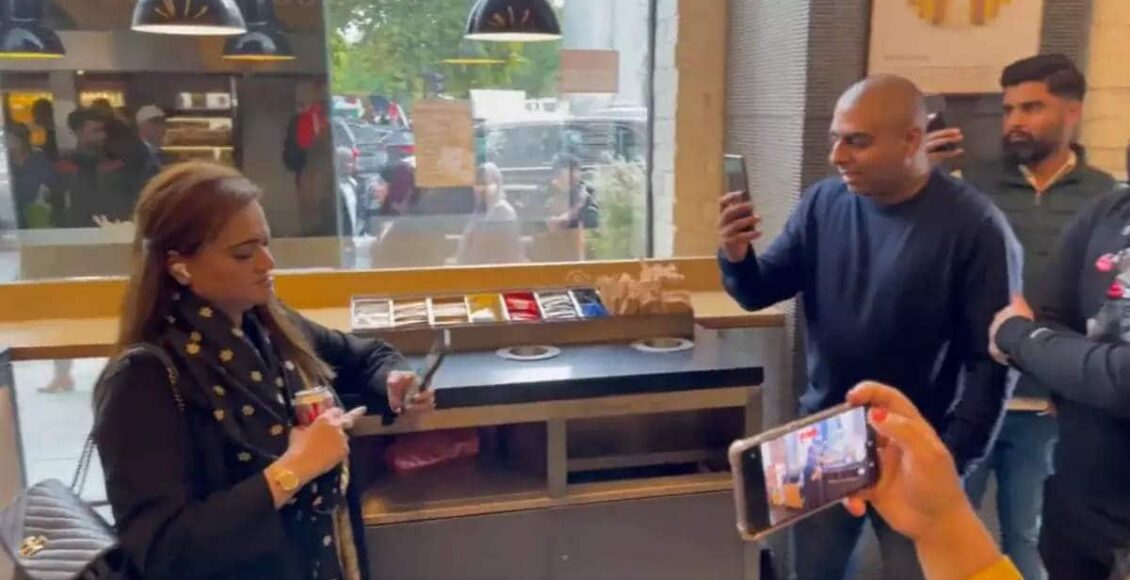 Karma is the big world, which owns a special place in everyone's life. Looks like it stuck with PML-N party members, as whenever they visit London people or say PTI supporters don't let them leave without a heavy embarrassment.
That's what recently happened with one of the PML-N members Marriyum Aurangzeb who found herself surrounded by Pakistani people who criticized her for various reasons and embarrassed her with their comments.
But soon the video went viral all over the internet and those who showed sympathy to Marriyum got a furious response from people.
Marriyum Aurangzeb faced heavy criticism from the people
People have criticized her attire and called as "Chorni Chorni". The woman filming her says she "makes grand claims on television there but she does not have a dupatta on her head [today]".
And after that lot of celebrities and others came forward to show their delightful support for Marriyum Aurangzeb. Adiqa Odho shared a clip of Marriyum sharing the incident. She wrote, "I agree with Marriyum Aurangzeb. You may not agree with someone's politics but harassment of this nature is unacceptable and not the way to solve national issues.
Shows a very poor side of Pakistan to the world when overseas Pakistanis behave in this manner. They become a part of the problem and not the solution."
"You achieve nothing with bad and immature behaviour. Don't get carried away by emotion and lack of proof or correct information. Get your facts right, have evidence for them and then follow the law always. Otherwise, you are playing with Pakistan's future," she concluded.
Netizens reminded Marriyum's supporters of her own words she used for Bushra Bibi & Jemima Goldsmith's mother
One user wrote, "Did you condemn this harassment of Jemima Goldsmith's mother? Did you condemn the shameful way M Aurangzeb spoke about Bushra Bibi? If not then sit down."
Some people recalled the day May 25, when kids and women were attacked by the orders of PML-N. "Linde journalist what happened to Yasmin Rashid on May 25 She was not a woman Farrukh Gogi Bushra Bibi was not a woman Shot in the mouth of a woman in Model Town She was not a woman Benazir's nude photos were dropped She was not a journalist  Don't be a pimp."
Another user wrote, "Did You Condemn the Language Used for Bushra bibi and other PTI ladies by PML-N leaders? I don't remember that you condemn the barbarous actions done on 25 by the imported government. Were they not ladies?"
One user shared a video of this young lady who answered one of the famous journalists in such a gracious way.