Renowned Humourist, Satirist Mushtaq Ahmed Yousufi Passes Away, Leaves Fans Bereaved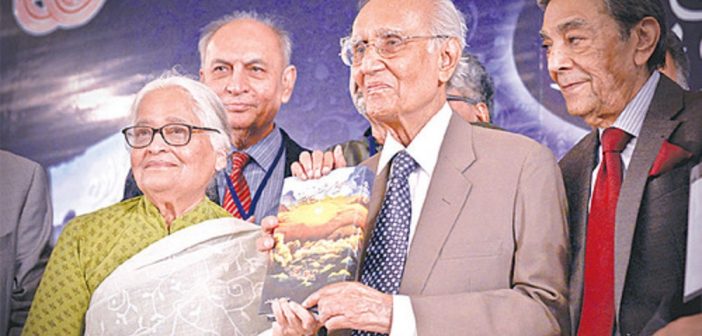 Mushtaq Ahmad Yousufi, who died on Wednesday, was the most widely read Urdu humour and comic writer in the second half of the twentieth century. Yousafi's death has saddened lovers and practitioners of Urdu language and literature.
About the late author
Born in a learned family of Jaipur, Rajasthan on 4 September 1923, Yusufi completed his early education in Rajputana and earned B.A. from Agra University while M.A. Philosophy and LL.B from Aligarh Muslim University.
After partition of India and formation of Pakistan, his family migrated to Karachi, Pakistan.
Yousufi was awarded Sitara-i-Imtiaz in 1999 and Hilal-i-Imtiaz in 2002, the highest literary honour given by the government to civilians.
His famous works include Chiragh Talay, Khakam-ba-dahan, Zarguzasht, Aab-E-gum and Sham-e-Shahr-e-Yaaraan.
Fans and followers expressed grief over the death of the legendary satirist and termed his death a great loss for the Urdu literature.
In the last few decades #Urdu prose has not seen a wordsmith like him.
Mushtaq Ahmed Yousufi's death is not just a loss for Pakistan but for one of the most popular languages across the globe.#RIP #MushtaqAhmedYousufi pic.twitter.com/eBYcmkR2Tm

— Osama Bin Javaid (@osamabinjavaid) June 20, 2018
Most impeccable Urdu humorist and satirist Mushtaq Ahmed Yousafi has passed away. This has to be the biggest dent to modern Urdu cannon and quality humour at large. RIP#MushtaqAhmedYousufi #MushtaqAhmadYusufi

— Rafay Mahmood (@Rafay_Mahmood) June 20, 2018
لفظ لفظ سے مسکراہٹیں تقسیم کرنے والا سب کو رلا کر چلا گیا
عزیزو مشتاق یوسفی اب اس جہان میں نہیں رہے#MushtaqYousufi

— Ammar Masood (@ammarmasood3) June 20, 2018
#Breaking …..Pakistan's biggest writer Mushtaq Ahmed Yousafi dies. Hum mizaah kay ehde Yousafi mein jee rahay thay #RIP

— Mubashir Zaidi (@Xadeejournalist) June 20, 2018
RIP #MushtaqAhmedYousufi . This pic from KarachiLitFest 2017, where he was in fine form and made us all laugh.. pic.twitter.com/FQuCXsqSkh

— Umber Khairi 💙 #FBPE #ProEu (@umberkhairi) June 20, 2018
We met him few months back at his house even at the age of 94 his memory was quite good , he was little depressed , weak & food intake was minimal ,but his presence was huge #legend #greatwriter #MushtaqAhmedYousufi we will miss u forever pic.twitter.com/XynWJvUQ7K

— Shahab Zuberi (@zuberishahab) June 20, 2018