PTV 'Accidentally' Trolls Imran Khan With Offensive Typo & People Can't Stop Commenting on it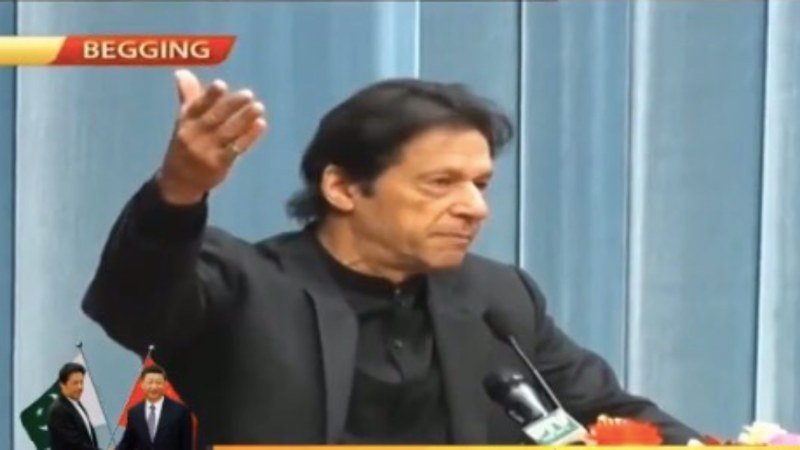 Accidentally making a typo can happen to the best of the best, however, some spelling mistakes can stir up situations where things are more forgivable than others.
On Thursday, Prime Minsiter Imran Khan had left for his first official visit to China. The PM of Pakistan became a target of apparently "accidental trolling" and that too at at the hands of a state-run entity!
What happened was that, during the live telecast of his address at the Central Party School (of the Communist Party of China) on PTV, his location was misspelled from Beijing as begging.
The typo reportedly remained onscreen for a good 20 seconds before the spellings were rectified. What happened next was obviously that screenshots started rotating on the internet.
The incident then provoked all kinds of reactions from people on Twitter. Here's what people had been saying.
PM @ImranKhanPTI 'Begging' in 'Beijing'!!! 🤣🤣🤣 pic.twitter.com/PZ8kdDNVZn

— Sal Khan سلمان خان सलमान खान 🏳️‍🌈 (@angrybrowngay) November 4, 2018
BEGGING and the ↩️ sign …

PTV gone drastically independent… pic.twitter.com/it0274We4B

— Gharidah Farooqi (@GFarooqi) November 4, 2018
If that Begging/Beijing error on PTV was done on purpose by someone then its disgraceful. If its a typo then although its funny, its very unprofessional & whoever did it or whoever was supervising, their qualification/experience should b questioned. Such carelessness on state tv?

— 🌻Bissmah Mehmud (@bissmahmehmud) November 4, 2018
It was definitely done deliberately by someone in PTV. There's no way Beijing can be misspelled with 'Begging'. Extremely shameful attempt by whoever was responsible for this. https://t.co/R7KjETedt4 pic.twitter.com/0XSrF0TqTM

— Wajahat Kazmi (@KazmiWajahat) November 4, 2018
When our PM is on a foreign official trip he is representing all of us. We must always criticize a PM for his flawed policies but let us not ridicule him for the fun of it. If you condemned PTI supporters for doing same in past then you should not mimic such behaviour. #Begging

— M. Jibran Nasir 🇵🇸 (@MJibranNasir) November 4, 2018
Someone on the news team accidentally mistyped IK's location as "Begging" instead of "Beijing" and it's honestly the most hilariously ironic thing ever. pic.twitter.com/ZfvDduF6lH

— sameera khan (@SameeraKhan) November 4, 2018
The broadcaster has, however, apologized via Twitter saying:
"Today, during a live address of the Prime Minister during his ongoing visit to China, a typographical error took place, which remained on screen for 20 seconds and later removed. This incident is regrettable. Strict action has been initiated under rules against concerned officials".
There's also news about two staff members being laid off for being negligent of their work.
What do our readers think about the issue? Do you think it was accident or on purpose? Let us know in the comment section below.