PEMRA Bans ARY News' Show 'Off The Record'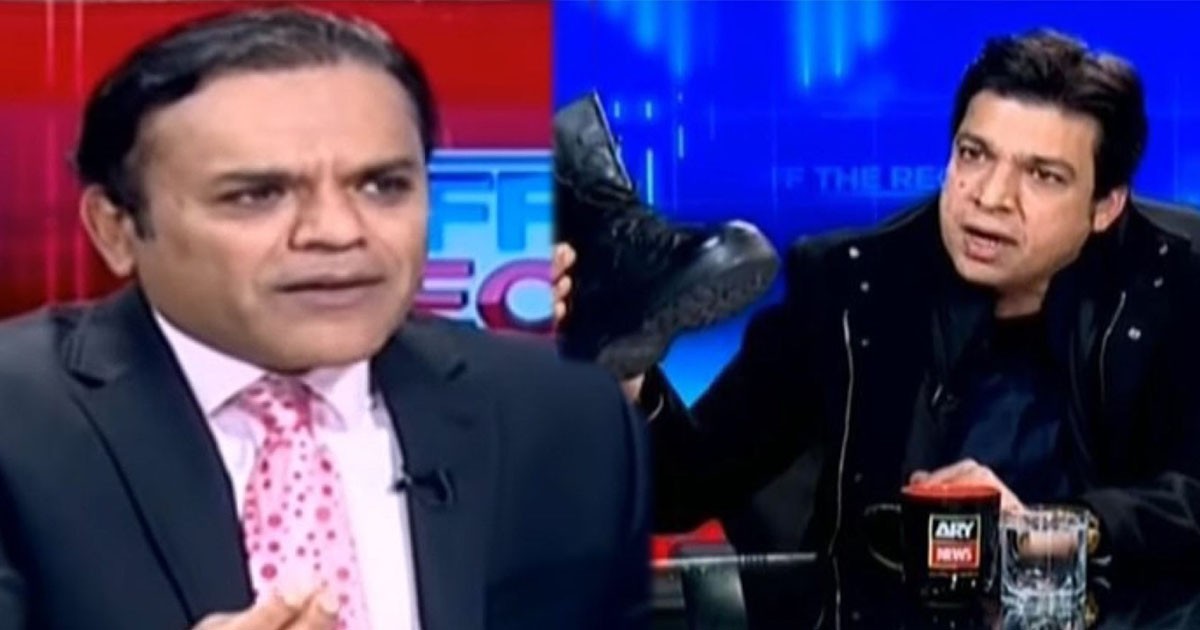 Pakistan Electronic Media Regulatory Authority (Pemra) has banned the broadcast of anchorperson Kashif Abbasi's programme 'Off the Record' on ARY News for 60 days.
The decision came following Pakistan Tehreek-i-Insaf (PTI) minister Faisal Vawda's inappropriate stunt on the show where he brought a boot creating a scene.
Federal Minister for Water Resources Faisal Vawda appeared on Abbasi's show alongside senior PPP leader Qamar Zaman Kaira and PML-N Senator Javed Abbasi. During the show he used a boot to heap scorn on the PPP and PML-N for voting in favour of the recently passed Army Act in parliament.
However, as criticism began to pour in from opposition leaders and from people on social media, Vawda said that Prime Minister Imran Khan was "not happy" over his action. Moeover, appearing in a Geo TV programme in the evening, he took responsibility of the incident but made it clear to anchor Hamid Mir that he would not apologise for bringing the boot to a live TV show.
Meanwhile, Pemra banned the broadcast and rebroadcast of Abbasi's show effective from January 16.
PEMRA Bans programme " OFF THE RECORD" on ARY News for 60 days. pic.twitter.com/TuknaIlzWn

— Report PEMRA (@reportpemra) January 15, 2020
The notice reads that one of the panelists performed a "very unethical act".
"Subsequently, arguments made by Mr. Vawda were not only extremely frivolous and derogatory but also an attempt to debase a state institution," the notification dated Jan 15 read.
"Whereas, the role of programme host Mr. Kashif Abbasi was quite unprofessional who actually did not intervene or stopped (sic) that unethical act performed by one of the panelists during a live show rather took the entire incident casually and kept smiling/cherishing such occurrence." it continued.