Jazz Awarded Contract By USF For Providing Mobile Broadband Coverage in North Waziristan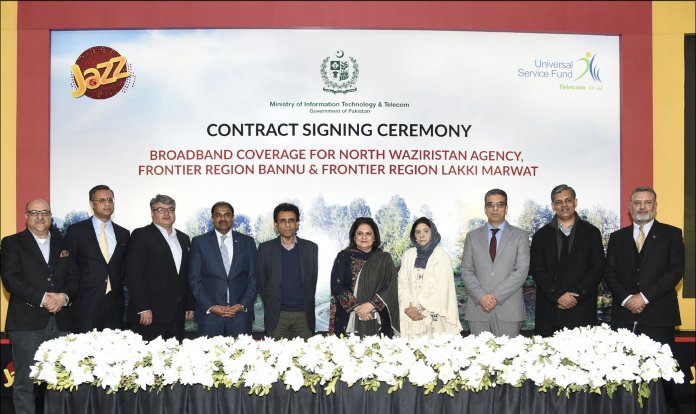 Universal Service Fund (USF) has awarded a contract worth PKR 192 Million to Pakistan's leading digital communications company – Jazz.
This contract has been awarded by USF under its Broadband for Sustainable Development Programme. As part of the deal, Jazz will now work towards providing mobile broadband access to people of North Waziristan Agency, Frontier Region Bannu and Frontier Region Lakki Marwat.
Chief Executive Officer – Universal Service Fund, Rizwan Mustafa Mir signed the contract with Ali Naseer, Chief Corporate and Enterprise Officer – Jazz.
Federal Minister for Information Technology and Telecommunication and the Chief Guest of the ceremony, Dr. Khalid Maqbool Siddiqui addressed the audience. He stated that with constant dedication and devotion, Ministry of IT and Telecom had achieved yet another significant connectivity milestone.
He further added that with such projects, Ministry for IT through USF will continue to work towards achieving the mission of broadband penetration across the country to facilitate the people in rural regions. In addition to Broadband Infrastructure, he expected USF to launch new e-services and m-services to facilitate digital lifestyle adoption for the people of Pakistan.
Rizwan Mir, CEO-USF said that with the signing of North Waziristan contract, Universal Service Fund's aim is to provide voice and data services to remote and underserved areas of Pakistan, where it is most critical for development.
While addressing the audience, Ali Naseer, Chief Corporate & Enterprise Officer at Jazz said:
"Through this collaboration, Jazz and USF have successfully bridged the digital divide in the country's remotest region. This is why the project has special significance for us and in due time residents of 401 administrative muzas will have access to the country's fastest mobile broadband connectivity. We are looking forward to assisting these people in unlocking their potential in an increasingly interconnected world."
The USF-Jazz partnership would also open-up new progressive opportunities for local communities such as e-commerce.