Indian Stock Market Crashes Down with fake 'surgical strike' claim.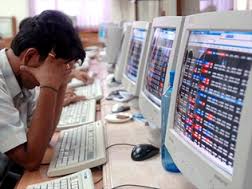 NEW DELHI (Web Desk) – Fake claims of Surgical strikes by India inside Pakistan boomeranged as the stock markets of India crashed soon after the news of "Fake" attack made waves across the region.
Related: India comforts cranky citizens with imaginary 'surgical strike'
The stock markets of India witnessed a bullish trend till 12 noon but as soon as India media and military officials claimed of a surgical strike inside Pakistan, which Pakistan categorically refused, Indian markets observed a bearish trend.
The Bombay Sensex (BSE SENSEX) crashed by 410 points. The website of Bombay Stock Exchange also depicted a dip, the market faced due to the claims of surgical strikes.


Moreover, the national Stock Exchange of India (Nifty) also dipped although the Indian media kept on cheering and jeering for the so-called surgical strike.


Another tweet depicting the stock market crash confirms whether India gained confidence after the strikes or the move backfired.
(Courtesy: Haider Ali Sindhu, Daily Pakistan)