Imran Khan's Oath Taking Ceremony Was the Highlight of the Weekend And Here's All That People Were Talking About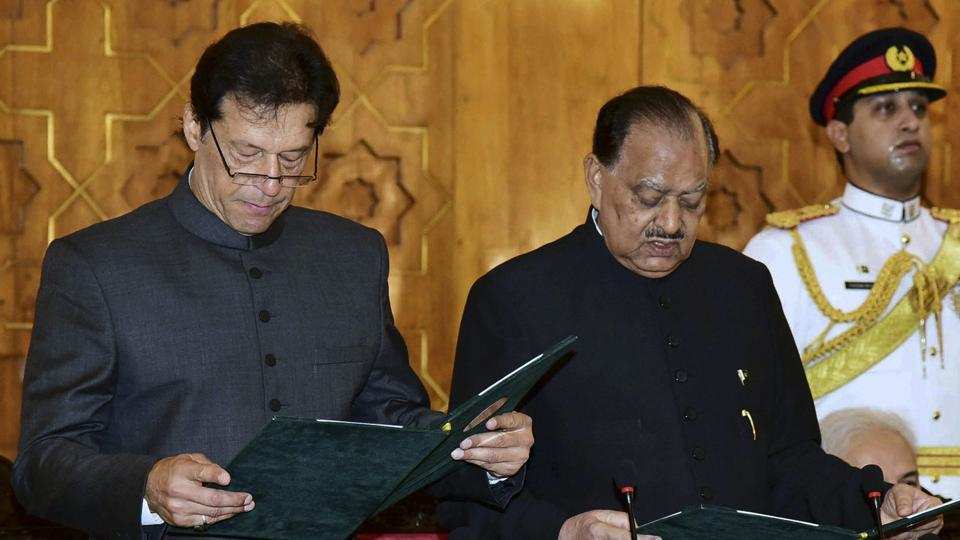 18th August 2018 has been a big day for Pakistan and its inhabitants. Today is the day when Imran Khan has taken oath as the 22nd Prime Minister of Pakistan after years and years of struggle in the Pakistani political terrain.
Khan's oath taking ceremony found many of the stars and celebrities in attendance. Actor Javed Sheikh, actress Sana Javed and singer and Pakistan Tehreek-e-Insaf member Abrar-ul-Haq were some of the celebrities who came to attend the historic event. Former Indian cricketer-turned-politician Navjot Singh Sidhu and cricket legends Wasim Akram and Ramiz Raja were also present.
Imran Khan, himself was all smiles and people also couldn't stop commenting on his cheeky smile.
https://twitter.com/haseemuzzaman/status/1030689141716078597?ref_src=twsrc%5Etfw%7Ctwcamp%5Etweetembed%7Ctwterm%5E1030689141716078597&ref_url=https%3A%2F%2Fwww.mangobaaz.com%2Fimran-khan-just-took-his-oath%2F
Twitteratis also took notice of his Urdu diction and had a lot to say about that too
"Ohhh sorry…. Roz-e-qayamat lol"

😂

— Mahnoor (@MMusings09) August 18, 2018
Who knew the first problem Imran Khan would have to face after taking the #oath would be Urdu dictation. #PrimeMinisterIK

— فریحہ ✪ (@fay_alif) August 18, 2018
LOL … 😂😂😂 pic.twitter.com/VgoQIY9Y7s

— Taimoor Zaman (@taimoorze) August 18, 2018
What is more is that Imran Khan's sons were not present at his oath taking ceremony as the newly elected Prime Minister and Jemima Goldsmith tweeted to clarify the reasons as well.
Thanks. The boys are very sad not to be there but IK was adamant that they should not come.

— Jemima Goldsmith (@Jemima_Khan) August 17, 2018
The first lady aka Bushra Maneka was also seated among the attendees and were noticed and appreciated for sure
First Lady of Islamic Republic of Pakistan…#OathTakingCeremony#PrimeMinisterIK pic.twitter.com/VoNxhp1WLp

— Depressed soul (@ThisGirlShoutss) August 18, 2018
Here comes the First lady 😇#PrimeMinisterOfPakistan #PrimeMinisterImrankhan #OathTakingCeremony pic.twitter.com/5TKPwBjDaN

— نورالعین (@noorulain_88) August 18, 2018