Generous SHO Takes Responsibility of a Poor Kid's Education & Wins Hearts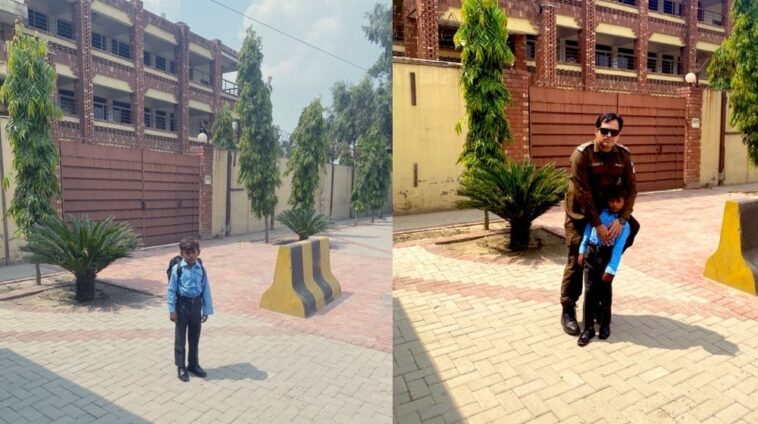 7-year-old Umair Ali was selling miswak (teeth cleaning twigs) sticks at Sheikhupura petrol station when a chance encounter with SHO Khurram Shehzad changed his life.
The young boy grew up in the slum areas of the region, along with 6 or 7 other siblings. His short stature and stunted height reveal malnutrition and hint at a difficult childhood. As his family continued to struggle financially for a while, the boy's mother forced him to start selling Miswaks to help make ends meet.
But by chance, young Umair managed to cross paths with SHO Khurram Shehzad, who is known as 'SHO Dogar' of Housing Colony Police Station. SHO Shehzad is known for his keen eye for trouble, but he's also a very helpful person by nature.
Speaking to Independent Urdu the SHO said,
When I saw this child, I thought that he should be in school, I am capable of enrolling at least one child in school. I talked to his parents and got him admitted to a nearby public school, take his uniform, books and now he will go to school for the first time since September 30.
مجھے نہیں پتہ کہ عمیر کا مستقبل کیا ہو گا پڑھ سکے گا یا یونہی غربت کی دلدل میں دھنس جاے گا مگر میں نے آج ساکت پانیوں میں ارتعاش پیدا کرنے کی کوشش کی اب دیکھیں یہ لہریں کہاں تک اس کو لے کر جائیں
عمیر کا داخلہ ہو گیا کتابیں یونیفارم لے لیا اب تیس سے سکول شروع ہوں گے
نیک تمنائیں❤️ pic.twitter.com/3m0PmGkuOz

— Khurram (@Khurram_zakir) September 8, 2020
Khurram Shehzad says:
The perception of the police is very negative in our society. I want to disprove that impression. We also have feelings, we feel the pain of others and we also want to do good for the people in addition to the police job. Ever since I started doing good for the people through social media, the negative perception of the police in the area has changed a lot.
People on social media are of-course lauding the policeman for his efforts:
Police waly ho kar itna acha kam kar rahy hain appreciated. 👮‍♂️😉😉

— Samar Farooq (@SamarFarooq16) September 8, 2020
We all need to focus on such things! Weldone! Allah aap ka hami o nasir ho or hamen bhi taufeeq ata fermaey.

— Ayesha Ahmed (@MrsZ95049418) September 8, 2020
Well Done Sir ! Salute and Respect . May Allah bless you

— Numan (@NumankhaanDK) September 8, 2020