Drama Serial Review – Dil Banjara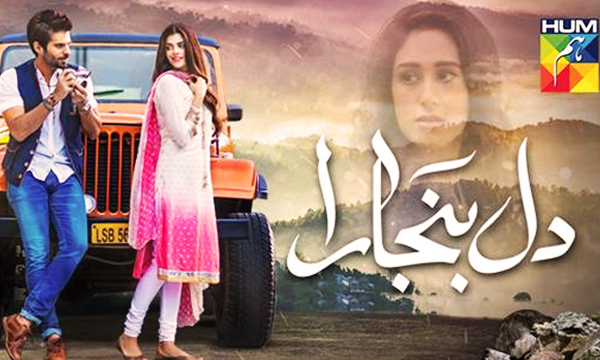 Dil Banjara is a new drama serial on HUM TV. Its first episode aired on the channel on 14th of October 2016. Previously titled as "Gypsy", the drama serial is now being aired with a new name and that is "Dil Banjara". The storyline has been penned by Faiza Iftikhar, directed by Siraj UL Haque and produced by Momina Duraid.
The new drama serial boasts a cast of relatively fresh faces in the television industry including Adnan Malik, Meera Sethi, and ofcourse the experienced and talented Sanam Saeed. Dil Banjara is Adnan Malik's second drama after Sadqay Tmharay.
As the story goes, Dil Banjara is about two people who are trapped by their existential circumstances. On one end, there is a girl named Nida (Sanam Saeed) harboring a spirit  inside her that wants to break free of her small and suffocating middle class existence and wants to explore the world. On the other end, there is a guy named Sikandar (Adnan Malik), a gypsy (Banjara) as suggested by the title who is living his life to the fullest, travels as he pleases and is an excellent photographer. However, both of these characters are shown to be bound by something; Nida, who is held back because of her and her family's lack of means which she has to deal with, and Sikandar, who is bound by gratitude. Mira Sethi plays the role of a girl named Shama, an artist who is blindly in love with Sikandar and serves to indicate how modern day friendships are easily misunderstood as romantic love.
What is more interesting is that the story of this new drama serial is inspired by a real life, Pakistani businessman named Zorain Iqbal. This is said, because just like Sikandar in Dil Banjara, Zorain also travels the world and is known to possess excellent photography skills.
After looking at the trailer, as well as the first episode of Dil Banjara, one can easily conclude that the new drama serial has a modern look and a lot of effort has been put into making this show stand out from the rest of the drama serials being aired these days. The combination of the actors chosen is also new, thus the new drama serial looks to be promising in terms of providing its viewers with some good entertainment every Friday night.