A PIA Pilot Allegedly Spotted A UFO During His Flight To Sukkur And Here Are All the Details We Could Gather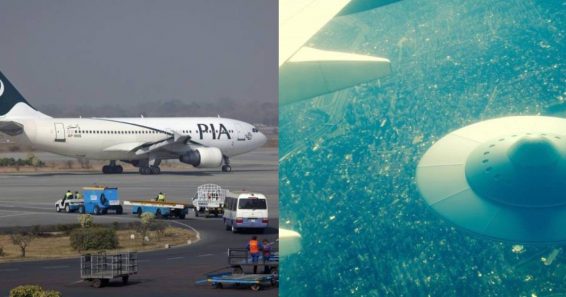 The world is known to witness innumerable unorthodox incidents, which apparently seems to be real. For instance, many might remember the time when an airplane went missing from Malaysia. When an aircraft took off from Malaysia and was en route to China, but the flight went missing and never reached its destination.
It's been years and the air police has not been able to conclude what happened to the flight and where it went. The airplane was carrying more than 200 people. The air police can't declare that the flight went under some turbulence and it has gone missing due to some accident because there are no traces found of the plane anywhere in the sea or on land.
Apart from such incidents we all have heard the spooky stories and controversies of UFOs hovering over the sky. Only recently an extremely weird incident has taken place and here's what has been circulating on the internet.
A Pakistani pilot saw a UFO (unidentified flying object) above his airplane!
This aircraft was airborne at a distance of 4.7 nautical miles and an altitude 4,300 feet when the pilot spotted a flying object (FO) about 105 feet above the aircraft and reported this to Air Traffic Control (ATC) Karachi.
On January 18, PIA flight PK 536 took off from Karachi airport at 5:24 pm for Sukkur. When the flight took off from Karachi around 5 and the pilot started increasing the height, he spotted a brown and black object hovering over his plane.
The pilot immediately informed the air police and upon investigation, the police decided that this must be a hand operated hover. The police under the command of SSP Malir Irfan Bahadur started searching the area. They reached the Hyderabad motorway and found nothing.
Later, the air police decided that the object spotted by the pilot must a weather balloon sent by Pakistan Meteorology (Met) Department. The balloons are sent four times a day. To collect the data for weather forecast. When the MET was contacted they were told that the weather balloon can only go as high as 10 miles.
In addition to this, the MET officer shared that every pilot goes through the training to be able to distinguish the weather balloon from any other entity, so the pilot can't mistake the air balloon with a UFO.
Do you believe in UFO conspiracy?! Was it really a UFO? Share your thoughts on the matter in the comments section below!