ZIC Lubricants Hits Home For its Audience With PSL Activities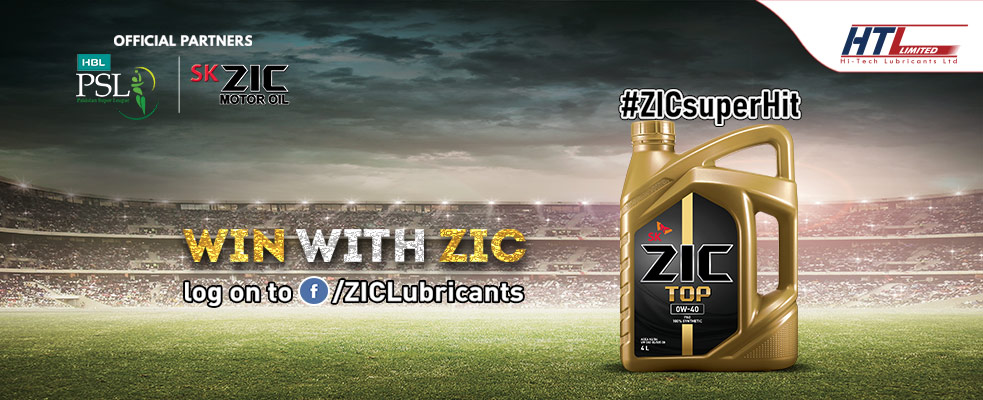 This year, once again, ZIC lubricants is currently serving as a proud partner of Pakistan Super League 4!
With many other brands and companies partnering with PSL this year, ZIC lubricants' activities have definitely stood out by far. The set activities and the rewards for participation have kept the PSL goers engaged throughout many platforms, and not only on ground but within the digital realm as well – including on Facebook, Twitter.
ZIC's History With PSL
ZIC lubricants has been associated with PSL for the last three years and has proudly worn the badge of association with an event which has been taking place for four years in a row and is performed and celebrated on such a large scale. In PSL's season 2 and season 3, ZIC had bought 50 packages in partnership with Pakistan Cricket Board (PCB). Moreover, even the truck was initiated as an idea by ZIC and PCB. ZIC truck appeared on all live matches regardless of any team hence not limiting the brand to one team rather getting mileage throughout the tournament.
ZIC's association with PSL 4 
This year, however, ZIC decided to go bigger and amplify its brand presence on a grander scale and platform. ZIC wanted and intended to do something which would bring about more than on-screen exposure for the brand.
So what has happened this time around is that, ZIC lubricants introduced the idea and with the hashtag of #ZICsuperHit. This meant that every time a batsman hits the bottle they would earn a $100. Apart from incentives for the players, ZIC also announced a campaign for people watching PSL matches at home. Engaging offers, aren't they?
Get a just of what's been happening below:
https://www.facebook.com/ZICLubricants/videos/1203841123118739/?epa=SEARCH_BOX
Even kids have been having a good time
https://www.facebook.com/ZICLubricants/videos/291411674872553/?epa=SEARCH_BOX
The Digital Campaign
In addition to ZIC's activities taking place in stadiums i.e on-ground, there are multiple campaigns which are being run on digital platforms as well with the hashtag #WINwithZIC increasingly trending. These include various competitions for everyone where you can win match tickets and exciting gift hampers. What an exciting offer, we must add here!
Winners have also been announced side by side:
https://www.facebook.com/ZICLubricants/photos/a.148009088591721/2184531034939506/?type=3&theater
ZIC has very generously offered 31 days and 31 winners. While the company has received an overwhelming response towards its involvement in PSL 4 and engagement with the audience through fun and quality activities, we suggest that our readers don't miss their chance at this amazing opportunity to win great prizes while there are still some matches left to be played and seen!