This Husband-Wife Duo Is On A Mission To Educate Underprivileged Children & Deserve All The Attention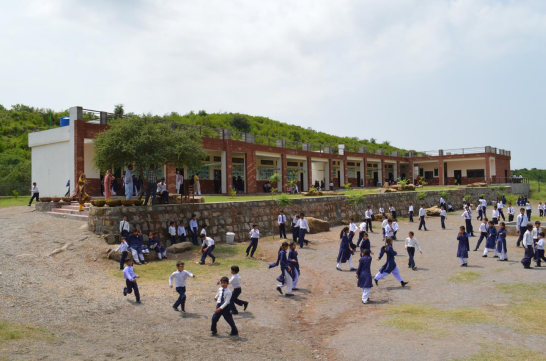 The House of Light School is a project being run by a husband and wife duo Sadia Qamar Raja and Qaiser Ghaffar in a large spread of building some 27 kilometers from the capital city's centre in the Bain Nala neighbourhood in Union Council (UC) Pind Bagwal.
The duo's efforts which can easily be labelled as commendable deserve all the attention.
Sadia and Qaiser started a free school for underprivileged children in a small rented building in 2006, however, the owners have no expanded the building into a two-storey building.
When the school was first started, it only offered nursery classes. Today, the school has 300 students from nursery through to the tenth standard and employs 20 teachers. According to locals and administrators of the school, students are provided with free education, uniforms, books, other study materials as well as lunch.
The school is affiliated with the Federal Board of Intermediate and Secondary Education and its students first appeared in Secondary School Certificate exams in 2016. What is more is that, one of its students, Aneeza Amanat, had obtained 943 marks in her exams.
One of the co-owners, Qaiser Ghaffar, won the 2015 local government elections for UC Pind Bagwal chairmanship. Opening up to a private news channel, the owner shared that the project is being run with the support of donors. He said anyone can 'adopt' a child and bear their monthly school expenses.
"Of our 300 students, 137 have been 'adopted' and their expenses are born by donors," he said, adding that one student's expenses come to Rs2,400 a month. Even the double-storey building of the school was constructed with the help of donors, including the Japanese Government.
Have anything to add to the story? Share your thoughts in the comments section below