Users Report Samsung Galaxy Fold Screens' Weird Breakage Problem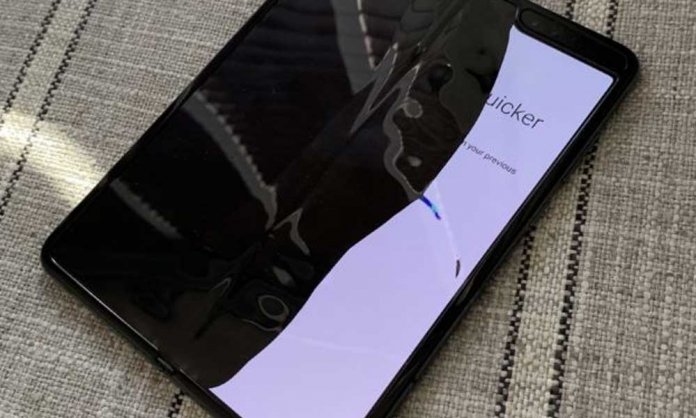 Samsung Galaxy Fold which is set to release at the end of this month is facing some troubling display issues.
Samsung had handed out the review units of its futuristic device in the US to prominent reviewers and journalists.. However, after only two days multiple users mentioned that the display of their Galaxy Fold broke after one or two days of usage.
The Verge was the first to report this problem, they mentioned that the Galaxy Fold's display presented a tiny bulge that appeared at the bottom-middle portion of the display. Due to this bulge, multiple lines of dead pixels appeared along with the OLED panel.
https://twitter.com/stevekovach/status/1118571414934753280?ref_src=twsrc%5Etfw%7Ctwcamp%5Etweetembed%7Ctwterm%5E1118571414934753280&ref_url=https%3A%2F%2Fwww.techjuice.pk%2Fsamsung-galaxy-fold-display-has-a-weird-breaking-problem%2F
The screen on my Galaxy Fold review unit is completely broken and unusable just two days in. Hard to know if this is widespread or not. pic.twitter.com/G0OHj3DQHw

— Mark Gurman (@markgurman) April 17, 2019
Many of the reports suggest that the real cause of the problem is the Galaxy Fold's polymer layer on top of the display. The South Korean tech giant had however, mentioned clearly in the details that the polymer layer shouldn't be removed from the display. Yet many of the reviewers unaware of the warning removed the display considering it a plastic protective sheet which you usually remove from your new devices when you buy them.
Conclusively, considering the price of the handset, it is crazy to see the upcoming smartphone facing these major display problems only a few days before its official release. But it is likely that Samsung will come up with a solution to handle these issues.
Stay tuned to Brand Voice for more updates