Twitter User Shares Images of Aam Ka Salan, Sends Social Media Into a Frenzy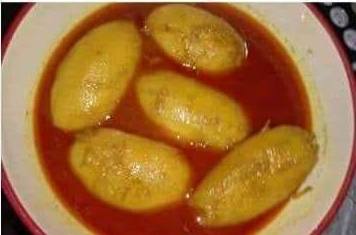 It's summer time in Pakistan and tis a season of everybody's favourite fruit i.e MANGOES.
People use mangoes to make a number of traditional dishes and desserts such as mango custard, mango milkshake, even Mango chutney and Mango achar.
However, this one Twitter user took it too far and shared a picture of Aam ka Salan!
Yes, you read that right!!
aam ka salan :p pic.twitter.com/OFh5cN5BU5

— Faizan 🇵🇸 (@FaizanAhmad) July 9, 2018
People on Twitter obviously had A LOT to say about this. Here are some of the comments this picture received
WHAT ON EARTH IS THIS? 😲

— Safa (@Safa_Ashraf) July 10, 2018
https://twitter.com/fhnaseer/status/1016952188504039424
This warrants capital punishment….. Adliya notice lay!

— Fahad nadeem (@fahadnadeem82) July 11, 2018
— Tehseen (@TheTehseen) July 11, 2018
https://twitter.com/heavymetalkop/status/1016727592429342720?ref_src=twsrc%5Etfw%7Ctwcamp%5Etweetembed%7Ctwterm%5E1016727592429342720&ref_url=https%3A%2F%2Fwww.mangobaaz.com%2Fmango-salan-what-even%2F