Snapchat Now Allows Plus Users to Use Both the Front and Back Camera, at the Same Time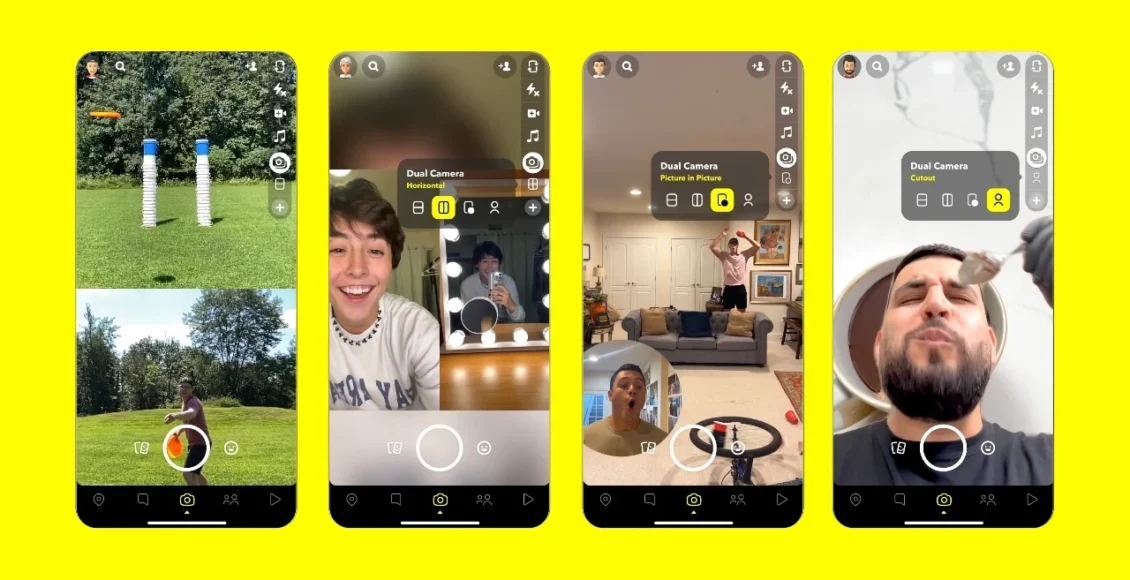 Snapchat has added the ability to record front- and rear-facing cameras at the same time.
Snap says the aptly named Dual Camera is "a new way for Snapchatters to capture multiple perspectives at the same time—so everyone can be part of the moment, as it happens." The feature can be used in conjunction with Snapchat's existing creative tools (music, stickers, etc.) and supports four different layouts: vertical, horizontal, picture in picture, and cutout.
"With one simple tap, you can start creating Snaps and Stories, or more polished Spotlight videos, with double the perspective," Snap says. "Dual Camera is a creative way for our community to capture exciting moments while being part of the memory—like rocking out at a music festival, or everyday moments like your culinary adventures in the kitchen."
Allowing people to record with both of their phone's cameras isn't new. BeReal—an increasingly popular social app that Instagram's also thinking about, erm, "borrowing from" with a prototype feature called Candid Challenges—also encourages users to record from both cameras at once. The primary difference seems to be the ability to use Snapchat's other editing tools as well.
Now iOS users seem to be the lucky ones with this update since it is only available on iOS devices for now. According to Snapchat, Android devices will get the update in the coming months. "Dual Camera will be available globally on iOS today, with Android support in the coming months" said the photo-sharing application.
It's important to note that this feature is only available for Snapchat Plus users, a premium Snapchat subscription that allows users to get access to exclusive features and benefits on the application. Snapchat ever since the release of its Plus feature has been constantly working towards releasing interesting new features for premium users. To read more about Snapchat Plus features we would suggest you read this.