Sastaticket.pk Aims to Further Ignite PSL 2017 excitement with Amazing Offers!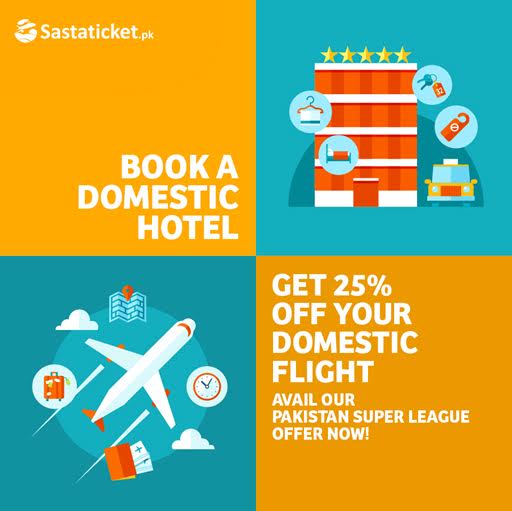 Islamabad, February 21, 2017: The second edition of Pakistan's very own star-studded cricket league – Pakistan Super League (PSL) is underway and has entered the second round with level of excitement mounting after every thrilling match between the five PSL franchises.
While all the players are showing their class on the field, Sastaticket.pk is offering amazing discounted travel and accommodation deals for all those cricket enthusiasts who wish to see their favorite stars battling it out in PSL 2017.

From a massive discount of up to 25% available on flights
, customers will also be able to enjoy
10% discount on all hotel accommodation rates
, ensuring comfort while they enjoy the most loved sport of the country.
Upon booking their flights & hotel rooms, consumers will have to enter promo code
PSL2017WOW
and
PSL2017DS
to avail the applicable discounts respectively.
While the local cricket officials have vowed to stage the PSL final in Lahore, Sastaticket.pk has more good news as it does not limit the discounts to UAE, the customers can benefit from the same discount on flights to Lahore, with an
additional 25% discount on accommodation rates
applicable to all hotels within the city, just by adding coupon code
PSL2017LHE
.
"Cricket is the most loved sport in the country and with the success of PSL's inaugural edition, great expectations are pinned on PSL this time around, and while we understand how genuinely the fans in Pakistan miss watching their stars playing in front of them. We take this as an opportunity to provide them with a platform where these fans get a chance to see their favorite players in action in much affordable cost", said Shazil Mehkri, CEO, Sastaticket.pk (Pvt.) Ltd, while commenting on the occasion.
He added that it was the love for cricket amongst people in Pakistan, which urged Sastaticket.pk to come up with these offers much for the delight of cricket fans.