Rohit Sharma's Ex GF Did Not Like His Double Century.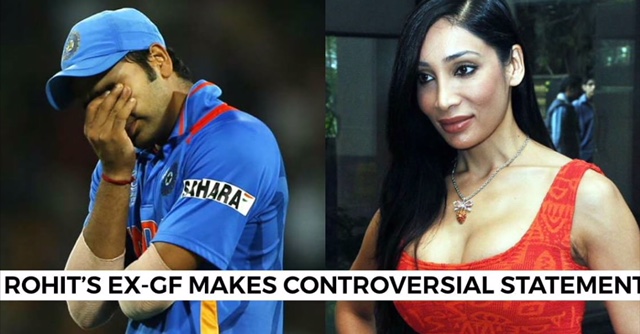 Rohit Sharma's captaincy career did not start well. India incurred an embarrassing loss at the hands of Sri Lanka in Dharamshala. They were bowled out for 112 and then Sri Lanka chased it down within 20 overs was not the start India's Hitman wanted. However, like always, Rohit bounced back.
The second and the third ODI saw India absolutely dominate the games. They won both the games quite comfortably. The second ODI saw Rohit bag his third ODI double century. It was extremely special to him as the day was his second wedding anniversary and his wife was present in the stands as well. He dedicated the knock to his better half and it was a wonderful moment.

"People are clapping because he is a man"
Sofia Hayat, Rohit's alleged ex-girlfriend, took the path of gender discrimination to chastise her ex. Rohit and Sofia were seen together a couple of times back in 2012. She even admitted her relationship with the Indian cricketer. She said that no one paid attention to Kanchanmala Pande who won a medal at the Olympics for the disabled.
"I am happy that Rohit is gaining success. But wondering how people are discriminating things on gender. Rohit should understand it is just a 'bat-ball' game. Just that he is a man, so people are clapping. No one went this crazy when Kanchanmala (Pande) won the Olympics with her disability. That was something more encouraging and should have been more praised as per my opinion. I would be celebrating something better or social cause, not on this for sure," said Sofia as quoted by MensXP.
She also talked about Rohit's celebration. She said that he has this habit of crediting his partner. Sofia went to say that she only cried when Rohit failed. In early 2017 she even posted an image of her Twitter account after blocking her former boyfriend and captioned it as "So I had to block him in the end."
"He has this old habit to credit his partner. When I was in his life, I used to be credited but I use to cry only when he played bad. I'm happy that Rohit has finally found someone who is trying to make him move on from me," said Sofia.
However, Rohit's alleged ex-girlfriend did not like this move.
Credits: www.crictracker.com