10 Lahori Dishes Defines The Food Culture Of Lahore.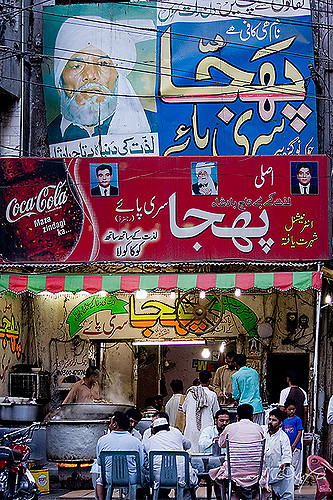 Lahore is known for it's traditional cuisine. So much so that it's retained the title of "the food capital of Punjab". People from all over the province reside here, and bring with them their unique colors to create a beautiful culture all in one city. If one had to describe Lahore's food culture in three terms, they'd be: spicy, traditional and not suitable for the vegetarians.
As a Lahori, I can safely say that the following 10 dishes best sum up the culinary culture of this diverse city:
1. Chicken Karahi (specifically Butt Karahi!)
You can find this karahi at Lakshmi Chowk. You'll need a local friend to get you to the right place however, because the area is flooded with doppelgangers. If you manage to reach the right one, I can assure you that this will be the best karahi you've ever had!
2. Nihari
Nihari is another time-honoured dish the city is known for. There are a number of famous nihari brands here such as Mohammadi Nihari and Haji Ki Nihari. Each eatery presents it's own unique taste. I personally suggest you try Mohammadi Nihari.
3. Halwa Puri
Many Lahoris start their day with halwa puri. It is the traditional breakfast of the city, though admittedly not the most healthy way to start your day. A number of famous places like Sadiq Halwa Puri, Taj Mehal Sweets, Butt Sweets as son on serves this delicious breakfast. Servings start from 4 in the morining to 2 in the afternoon (for those of you sleeping in).
4. Murgh Channay
Another famous breakfast in Lahore is murgh channay (chicken with chickpeas) with naan or parathas. A glass of lassi is a popular drink, especially in summers. You can find it on Lakshmy Chowk Shahi Murgh Chanay, Tooba Murgh Chanay, Goga Naqeebiya etc.
5. Paaye
If you haven't heard of this dish before, you may find it a bit strange. Paaye literally means the feet of a goat – but trust me, it's something you are going to want to try. It's also a delicacy of the city, and served in many places. Phajjay Kay Paaye is one such location, and extremely popular because of the quality and taste.
6. Haleem
Haleem is one of those rare dishes that can only be prepared properly if you commit six to seven hours to the process. It is made using a mixture of chicken and daal (pulses) and can only be prepared by experienced hands. It is extremely popular in Lahore, and many start their day with it.

7. Sajji
Sajji is a dish you eat along with your friends at a reunion, or with your family at a special occasion. Though Sajji does not have its origins in Punjab, it has over time become part of the food culture of the city.
8. Gol Gappay
"I haven't tried Gol Gappay from Nisbat Road," said a Lahori girl NEVER. It is without a doubt one of the most important additions in Lahori food culture over the years – especially for girls.

9. Tak-a-Tak
Tak-a-tak is another integral part of Lahori culture. (Trivia: this same dish is known as Kat-a-kat in Karachi). The preparation style and the sounds made while doing so are quite unique, and perhaps are a cue to its name. If you're seeing it live it's sure to grab your attention.
10. Kababs
Lahoris are extremely fond of barbecue. As such, there are a number of kabab shops where barbecue is the highlight. One of the most famous is Bhaiya Kay Kabab and Khusray Kay Kabab. You should know though that the kababs at Bhaiya are a lot smaller in size when compared to regular kababs. So if you're ordering for two people be sure to order at least half a dozen!
Agree with our list? Let us know what foods and eateries define Lahore's food culture for you!
Source: www.cheflingtales.com