Reham Khan And Resham are in an Online Tussle And Here's the Reason Why…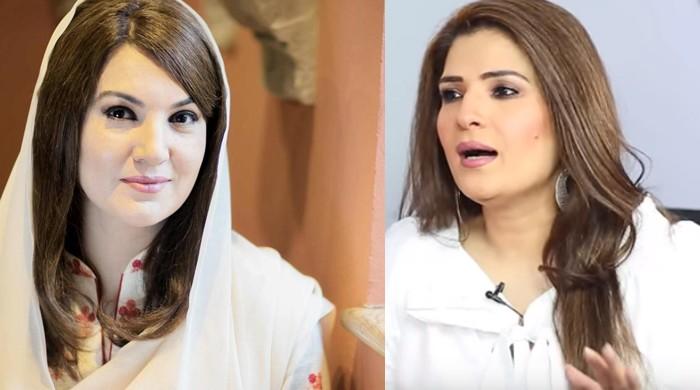 Everybody knows Resham who is a big part of the Pakistani entertainment industry and is a recognized name and face.
In a recent turn of events, Resham talked about comments made by Reham Khan with regard to her in an interview.
Everybody knows that a few months back Reham Khan had released her first book. The book had made a lot of noise on all kinds of media channels and was not just the talk of the town but was being discussed all over the world.
Resham has revealed that she was flooded with screenshots of the excerpt where she's mentioned.
According to Resham, Reham had mentioned a few celebrities that are generally not involved in scandals. She added that Reham had used some renown names to bring her book under the spotlight.
Resham then goes on to say this; 'Reham Khan aurat ki badtareen misaal hai, aur Jemima Khan aurat ki behtareen misaal hai.' 
As soon as the news reached Reham, she put forth a tweet in order to clear the misunderstanding.
Actually I did not put the Resham story in the book or in any notes anywhere. 🤔https://t.co/aPNKIjBAZR

— Reham Khan (@RehamKhan1) September 8, 2018
However, sadly people were obviously siding with Resham and gave Reham a hard time on Twitter.
Resham is very angry. Please don't mess with her.

— Ammar Ali Qureshi (@AmmarAliQureshi) September 8, 2018
What Resham story and what book?

— Call_Spade_A_Spade (@Gum_Shuda) September 9, 2018
Instead, rest she spoke is truth. Feeling pity on you that you even have no respect among women. 😐

— Dᴇformᴇd Cᴀlᴀmɪtous (@CaptivatingKhan) September 9, 2018
when any body against you then you want to do character assassination.

— rifath rafiq (@RifathRafiq) September 9, 2018
The hate took a toll on Reham and she tweeted again
A couple of actors trying to become relevant get jobs. I think I have created more job opportunities than most politicians 😁 https://t.co/5NKdRJDDOj

— Reham Khan (@RehamKhan1) September 9, 2018
What do our readers think about this on-going online drama between Resham and Reham? Let us know in the comments section below.