Rana Sanaullah And Abid Sher Ali Get Slammed on Twitter for Misogynistic Remarks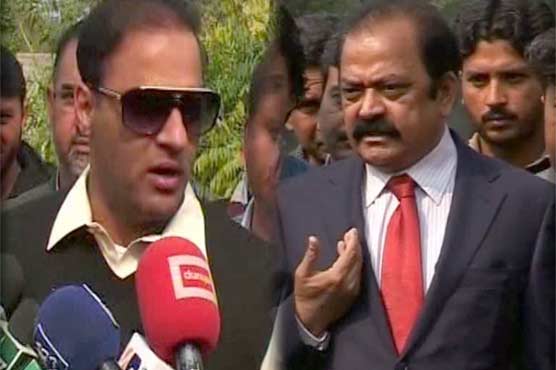 Opting for a derogatory and misogynistic approach towards women in the Pakistani society is nothing new. However, what is new is how many people are waking up to address the issue upfront and call out and slam those who still think it is okay to demean women openly in whatever way they like.
For those who are up to date with or involved in the Pakistani political world, they will know that misogyny is widespread. What is interesting is, however, and judging by how Twitter has bashed PML-N leaders Rana Sanaullah and Abid Sher Ali's recent sexist remarks, people clearly have had enough.
On Sunday, in a press conference, Punjab Law Minister Rana Sanaullah passed the following remarks about the women who attended the PTI jalsaat Minar-e-Pakistan: "The women who attended the rally were not from honourable families because their dance moves implied where they had actually come from."
Also on Sunday, while recounting the April 27 brawl during the budget speech at the Parliament House, Minister of State for Power Abid Sher Ali shared his derogatory response to PTI whip Shireen Mazari when she asked him to keep the distance and not to touch her.
People are obviously furious and here's what they have been saying:
This is what happens when you don't have enough women in your ranks, in your party cadre, in your workers. You have misogynists like #RanaSanaullah hating on women participating in political rallies.

Disagreement w/out hatred, w/out misogyny just not possible for some schmucks.

— Mahwash Ajaz ?? (@mahwashajaz_) April 30, 2018
https://twitter.com/WajeehaJavedd/status/990945600198848512?tfw_site=dawn_images&ref_src=twsrc%5Etfw&ref_url=https%3A%2F%2Fimages.dawn.com%2Fnews%2F1179969
Even if those women were dancers , it's their democratic right to come out for their political views and vote. No misogynistic male has the right to mock them ??

— Samrina Hashmi (@samrinahashmi) April 30, 2018
Disgusted and enraged by the filthy language used for women by #ranasanaullah and #abidsherali – I hope we rise above our political affiliations and unite to raise hell against such vile behavior. #enoughisenough – this is not my #Pakistan

— Anam Toseef (@anamtoseefkhan) April 30, 2018
Shame on #RanaSanaUllah and #Abidsherali for abusing #shirinmazari. Hopefully people won't have to tolerate these low life, uncouth criminals anymore after the elections. Vote these criminals out people.

— Wasim Saqib (@wsaqib) April 30, 2018