Peshawar Zalmi Unveils Their New Kits for PSL 8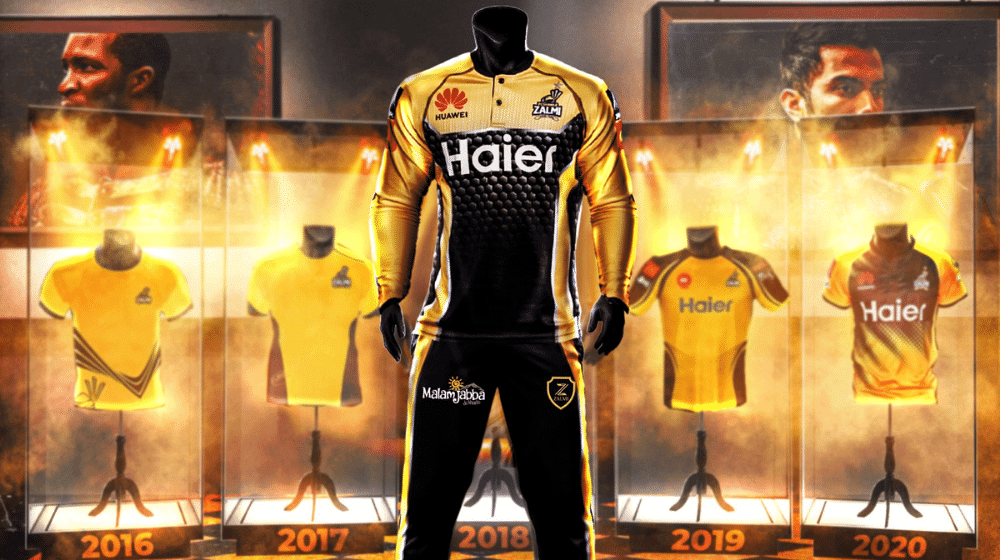 Peshawar Zalmi unveils its kits for the eighth edition of Pakistan Super League through a video featuring Pakistan Cricket and Zalmi Captain Babar Azam in collaboration with Gym Armour and Red Bull Records.
Peshawar Zalmi has introduced the narrative of sports being fashionable and cricket is more than a sport, but a national sentiment and Peshawar Zalmi is only making it better.
Featuring Babar Azam with Sail by Awolnation as the official background score in collaboration with Red Bull Records, we see an upbeat, contemporary, and conceptual integration of Red Bull. Attired in Peshawar Zalmi Kits with bright and complementing accessories, the characters in the teaser are seen with cans of Red Bull in their hands.
Inspired by the contemporary and progressive nature of the brand Peshawar Zalmi is, the Home Kit is an elegant combination of tuscany yellow with a classic and complementing addition of black. The bold yet minimalistic design is reflective of the contemporary design philosophy practised by Peshawar Zalmi. The color yellow is symbolic of the loyal and intensely passionate fanbase of Peshawar Zalmi – The Yellow Storm.
From a performance perspective, the jerseys are available in two versions, Authentic and Replica.
The front of the jersey features a mandarin collar in black, and uniquely woven and embedded intricate geometric patterns in hues of lemon yellow, each clustered together, symbolizing the connection Peshawar Zalmi holds with its fanbase. The geometric alliance gets bolder on the sleeves, further accentuating the black base. To oomph the character of the silhouette, details can be seen in the form of a yellow placket sewn against the sleeves. The hem of the jersey holds a sleek addition of fabric, with sinuous linear play in gold.
An imperative addition to the jersey is the badge of authenticity. Peshawar Zalmi has ensured the finest quality and authenticity for its fans. The emblem crafted in velvet holds the Peshawar Zalmi logo embedded into it with a sheen that adds to the element of authenticity.
The Training Kit for Peshawar Zalmi is a combination of dark values in indigo accompanied with vibrant chroma of crimson and tangerine. The kit is an ode to the city of flowers and the warm colour palette reflects its people. The jersey has a consistent textual print fraught over the base, with a linear disruption travelling on the sides, across the shoulders.
The Training Kit is a testament to the fact that Peshawar Zalmi is consistent with the fashion trends of the year. With popping hues and bolder prints taking over, Peshawar Zalmi ensured that the kits stand out to be statement pieces for the fans as well.
"The Training Kit is yet again inspired by Peshawar – The City of Flowers.", added Mr. Javed Afridi, Chairman Peshawar Zalmi.
The trifecta of kits is now available to buy at Peshawar Zalmi's Official Store.