Pakistan's first DTH licences auctioned for Rs 14.69 billion.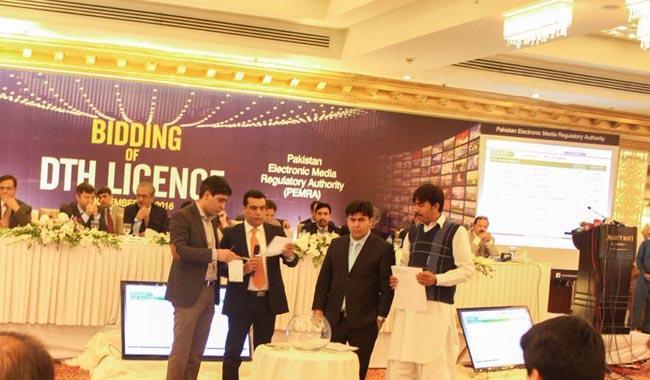 The highest bid was raised by Mag Entertainment for Rs 4.91 billion, followed by M/s. Shahzad Sky for Rs 4.90 billion and M/s. Star time for Rs 4.89 billion respectively.
A total of 11 companies — Orient Electronics Lahore, Mag Entertainment Lahore, Skyflix Islamabad, Smartimes Communications Islamabad, Sardar Builders Islamabad, Smart Sky Islamabad, Parus Media and Broadcast Islamabad, NayaTel Islamabad, Shahzad Sky, Islamabad, HB DTH Islamabad and IQ Communications Karachi — took part in the bidding process to secure the three licences.
"All the three licences were sold for Rs 14.69 billion," informed Chairman PEMRA Absar Alam, while speaking to the press.
PEMRA Chairman congratulated the winning companies and said the initiative was going to be a game-changer for Pakistan's electronic media industry.
"To date, this is the biggest investment in Pakistan's electronic media history," he said and added as per the estimates and feasibility studies carried out by PEMRA experts, the overall investment would be $450 million ($150 million each) and could touch $750 million more in the next two years. These estimates did not include the bidding proceeds, he made it clear.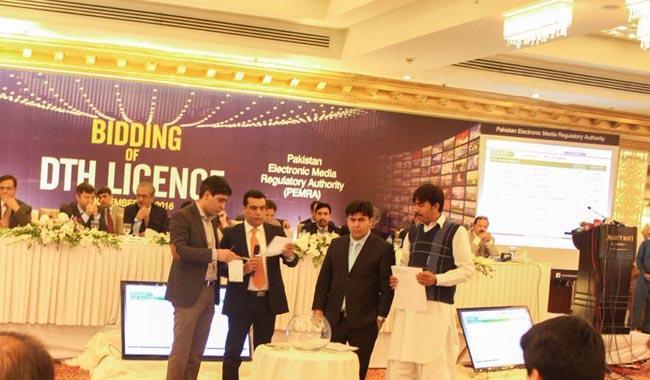 The DTH service, he said, was a state-of-the art technology offering new dimensions of distribution system and a wide range of choice to consumers. "The current analogue distribution system is offering a maximum of 80 channels while the DTH would increase the capacity to around 120 and each local DTH licence holder is expected to have at least 500,000 subscribers," said Absar Alam.
Besides lucrative investment, the DTH regime would also make a significant contribution to job generation in the country leading to 15,000 jobs (5,000 by each company) i.e. new direct employment opportunities, he maintained.
Absar Alam said the DTH service would not end the cable operators' business, but would compel them to invest in technology and their distribution systems.
However, the media watchdog issued non-exclusive licences for 15 years to the successful bidders after the open outcry bidding.
Pakistani DTH services, once launched, will counter the sale of illegal Indian DTH services in Pakistan, which incur a heavy loss to the national exchequer because of transfer of between $200 million to $350 million to India annually on account of subscription fee. Now the legal DTH services will give consumers a choice against the current monopoly of cable operators as well.
Pakistan has nearly 25 million electronic media subscribers and between three to five million consumers use Indian DTH illegally. After issuance of licences, subscribers of Indian DTH would have to shift to the local network.
Similarly, foreign channels will get landing rights to come under the local regime through a regulatory process and launching of new local satellite channels will be allowed.
The DTH licence holders will have to start operations within the year or risk termination of licences. The bidders are required to deposit 15 percent of the bid money at the outset of the bidding as earnest money, followed by 50 percent of the bid money upfront. The remaining amount could be paid immediately or in three yearly instalments at a mark-up rate.
Each DTH licence holder is required to pay an annual fee of Rs10 million and contribute two percent of their gross revenue after the first three years of operations.
Licenses to the bid winners would be awarded after clearance from the interior ministry and law enforcement agencies.
Report Courtesy: The News (www.thenews.com.pk)