Ostrich Meat Shop Opens in Lahore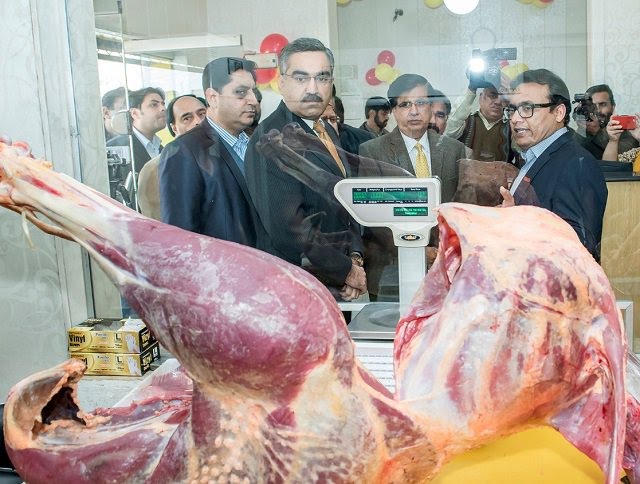 An ostrich meat shop has been inaugurated in Lahore on Tuesday, by the Provincial Minister for Livestock and Dairy Development Punjab, Sardar Hasnain Dreshak. Consumers will now be able to buy nutritious ostrich meat at lower prices.
The ostrich meat shop is located at the University of Veterinary and Animal Sciences, Abdul Qadir Jilani Road. The project to sell ostrich meat is a collaboration of Punjab Livestock Department and the Government Veterinary University.
The meat will be sold at Rs. 1,300 to Rs. 1,500 per kilogram. One ostrich costs Rs. 60,000 and about 250-300 kg of meat can be obtained from each ostrich. The residents of Punjab will be able to buy fresh ostrich meat throughout the week, even on Tuesdays and Wednesdays when meat is not available in the market.
Under this plan, ostrich meat will not just be available at the butcher shops but customers can also buy it from departmental stores and mobile meat shops. The farmers will be given a subsidy by the government to raise ostriches.
During the inauguration of the meat shop, Vice Chancellor of the University of Veterinary and Animal Sciences, Dr. Talat Naseer Pasha and Head of Ostrich Association of Pakistan, Raja Tahir Latif were also present.
Raja Tahir Latif said that this was a much-needed initiative by the government. Being more beneficial than beef and mutton, the demand for ostrich meat is continuously increasing in Pakistan and by selling it throughout the week, the demand can further be increased.
The ostrich meat shops will carry ostrich farms names, tag numbers, number of birds and weights. According to reports, 400 farms have been registered in Punjab on the initial basis, where 20,000 birds are being raised.
Have you ever tried Ostrich meat? Are you willing to try one soon? Do share your thoughts below.