Nisha Rao – First Transgender Student at Karachi University
Nisha Rao has become Pakistan's first transgender student to be granted admission into an MPhil programme to study law. She will be pursuing her LLM degree from the University of Karachi. Pakistan sure seems to be making leaps in granting rights to the transgender community.
Rao is a transgender person, many of whom lead difficult lives because they are treated as outcasts. She ran away from her home in Lahore at the age of 18 and eventually arrived in Karachi where she Rao was forced to resort to begging on the streets for survival. While elders from the transgender community advised Rao to beg or become a sex worker to survive, she used alms collected through begging to pay for law classes. After several years, Rao earned a law degree, gaining her law license in 2020 and joining the Karachi Bar Association.
The lawyer recently became the first transgender person to gain admission in an MPhil programme at Karachi University. According to the public relations office at the university, Rao is the first transgender student to have gained admission in any programme since the university's inception. Karachi University recently opened admissions to transgender students for all programmes for the very first time, allowing Rao to send in her application to KU's law school.
News of Rao's admission was also announced by the Trans Pride Society, an NGO for the rights of transgender people founded by Rao herself. The society took to Instagram to make the announcement. "A momentous day! Nisha Rao, Founder and President of Trans Pride Society, was admitted to the University of Karachi for their Master of Laws Program (LLM)," they wrote. "Pictured next to Vice Chancellor of Karachi University, Professor Dr. Khalid M Iraqi, Nisha is ecstatic for the next step in her journey as Pakistan's First Transgender Lawyer.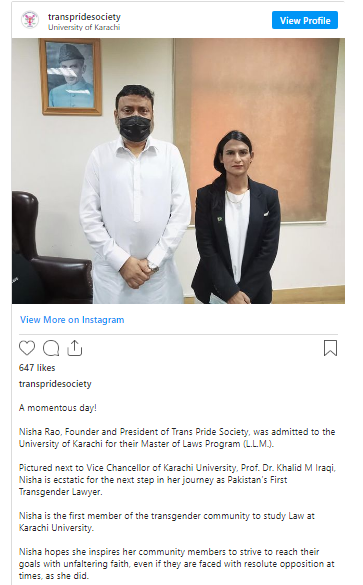 According to the university's public relations office, Rao has not been awarded a scholarship to fund her LLM studies. At the moment the university offers no scholarships specifically for students from the transgender community. Rao will be pursuing the degree by making payment herself.
According to the Higher Education Commission, a two-year LLM degree is generally recognized by the HEC as equivalent to an MPhil degree.
Have anything to add to this story? Let us know in the comments section below!