Mufti Qavi Defends Himself After His Leaked Phone Call With Hareem Shah Goes Viral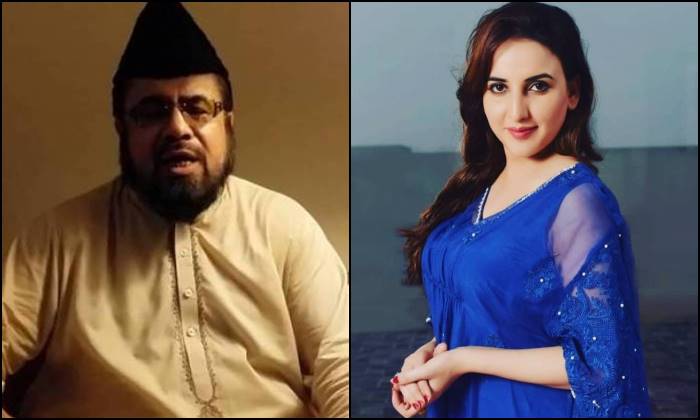 Being an influencer comes with its pros as well as its cons as some influencers are known for their charm, others are known for their controversies.
Pakistani TikTok starlet Hareem Shah is one of the most well-known controversial ones. She rose to fame on the dubbing platform and soon found herself in the center of lots of scandals.
The latest controversy revolves around a leaked phone call clip in between Shah and Mufti Qavi. Shah is not the only one with their fair share of controversies; Mufti Qavi, a cleric, also has been a part of many.
In the viral video clip, we can hear the cleric telling Shah to he wants to meet her, but he can't, unfortunately, due to personal reasons. Shah, on the other hand, replies as if she is least interested in meeting him. However, it is still unaware if Shah and Mufti Qavi met and the motive behind Mufti Qavi's request to meet her is also unknown.
مفتی عبدالقوی حریم شاہ کو اپنی معمول کی روٹین بتاتے ہیں تو حریم شاہ کہتی ہیں کہ میں نے آپ کی تقریر سننے کے لیے کال نہیں کی.#HareemShah #MuftiQavi pic.twitter.com/m041bmMrST

— Naveed Murtaza (@NaveedMurtaza11) September 19, 2020
On the other hand, Shah can be seen and heard arguing with him. We would also like to point out that Hareem Shah is not the only influencer the cleric is linked with. His name came up several times in regards to Qandeel Baloch.
Another video of him also recently surfaced in which he's seen dancing with a Korean woman.

معروف عالم دین اور رویت ہلال کمیٹی کے سابق رکن مفتی عبدالقوی کی ایک خاتون کے ساتھ رقص کرنے کی کوشش پر مبنی سوشل میڈیا پر وائرل pic.twitter.com/6omFLPksxO

— IBC URDU (@ibcurdu) September 9, 2020
Here's how he's trying to defend himself (and failing ofcourse):
آپ کو مفتی قوی کہا جائے یا مفتی ٹھرکی ؟
میں نہیں جاتا خواتین چل کر میرے پاس آتی
ہیں تو کیا کروں
Full Video:
https://t.co/hYcgrTiBwC pic.twitter.com/UGXjvk0UH4

— UrduPoint اردوپوائنٹ (@DailyUrduPoint) October 6, 2020
Stay tuned to Brand Voice for more news and updates.