Meera Jee Turns From Actress to Entrepreneur, Opens Her Own Restaurant in Lahore
Renown Pakistani actress Meera Jee is a woman of multiple talents, from film actress, TV personality, philanthropist, she has now stepped into the restaurant business.
It was only recently when Meera Jee surprised her followers with the big news that she has opened her very own restaurant in Lahore.
And she has been posting about it on and off since then
Loved the Pizza! I am missing the food and ambience … I am coming back to Lahore. All my fans, friends, family, come and join me – we will have the pizza together!!! #meeracafe #syedahsenabbass pic.twitter.com/73jXCKnSqn

— Meera (@TheMeeraJee) September 13, 2018
The restaurant is located in Lahore State Life Housing Society.
The menu seems to provide details about the food variety and shows that it is a fast food joint and that too with reasonable prices.
Take a look!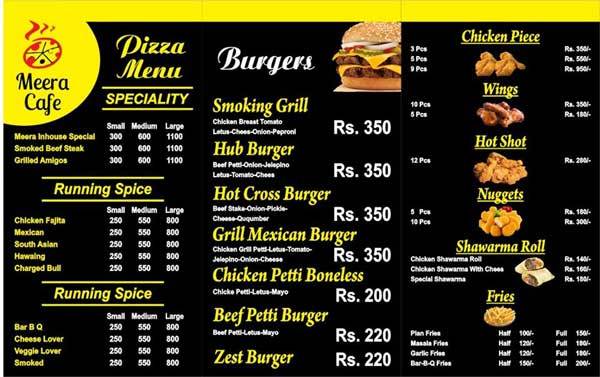 According to reviews posted on groups on Facebook, the food isn't too bad. This just goes to show that Meera Jee is paying special attention to the quality of food.
Some reviewers took time out to share pictures of the food they enjoyed and if you ask us, it does look appetizing!
Source: Syed Ahsan/Facebook 
Source: Syed Ahsan/Facebook
It is reported that Meera will soon arrange an official inauguration event for the Café, however, the details have still not been disclosed.
What are your views on the Meera's Cafe? Doet us know in the comments section below.