Lahore's Hafeez Center Caught Fire Yesterdat And People Are Extremely Heartbroken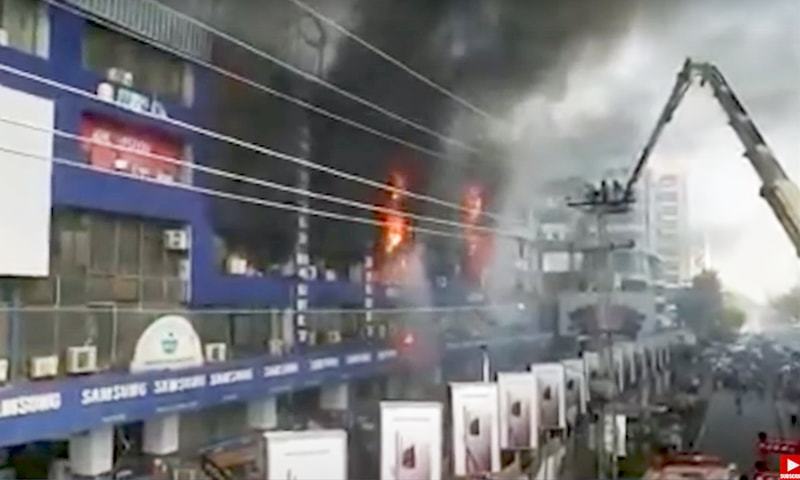 At least 500 shops out of more than 1,000 shops and godowns housing laptops, mobiles phones, accessories worth millions of rupees were gutted in a huge fire erupted at Hafeez Centre, a commercial hub located in the center of the City.
Emergency teams rescued at least 25 persons in their operation. No loss of life was reported. The fire erupted early in the morning at some unknown time. Firefighting started at 6:15am and continued for over 14 hours till the filing of this report at 8pm.
Massive fire at #HafeezCentre ? pic.twitter.com/mW9BbKlr1Y

— ??_مس.اوفیشل_?? (@Im_Mughal_) October 18, 2020
It is being said that the cause of the fire was an electrical short circuit. Politicians and people from the administration are present at the location and are monitoring the rescue operation.
CM Punjab @UsmanAKBuzdar is monitoring the situation of #HafeezCentre firefighting operation.

Provincial Minister from Lahore @Dr_YasminRashid, ACS Home, Commissioner Lahore, DG Rescue and DC Lahore are on spot and overseeing the rescue operation. pic.twitter.com/x9lRbnd4qI

— Azhar (@MashwaniAzhar) October 18, 2020
People were shocked and saddened by the disastrous fire incident at Hafeez Center
It is truly heart wrenching to see the fire at #HafeezCentre Lahore. May Allah help the traders in these sad moments. pic.twitter.com/nZBzah4S7i

— Kashif Zaheer (@KKamboh) October 18, 2020
Deeply saddened to hear the news of fire broke out at Hafeez Centre, Lahore. Ya Allah Please Help!!!??#HafeezCentre pic.twitter.com/y8LlfEeKE2

— PhupoO kA betA?? (@PhupoO_kA_betA) October 18, 2020
May Allah keep everyone safe Ameen #HafeezCentre https://t.co/zKJ9ySzut6

— Kamran Akmal (@KamiAkmal23) October 18, 2020
Hafiz Centre got caught on fire. I hope the damage remains minimum & the people recover maximum of their belongings. May Allah make it easier for everyone affected!?? #hafizcentre #hafeezcentre

— Tehniyat Shabbar (@TehniyatShabbar) October 18, 2020
Our thoughts and prayers for all those affected by the fire.