Why Instagram Is Important In Brand's PR Plans: Facts And Figures

Instagram has progressed significantly since its inception from 2010, and businesses are beginning to observe the trend change in social media world. The analytics tell us that among the top 100 brands in the world, 90% of them have an Instagram account.
Over 1 billion people use Instagram; among them, 500 million use it daily. A reason for B2C companies to get on this platform is, 60% of users discover products on Instagram and 75 % of users take action like clicking on the ad or visiting the website etc.
As visual content becomes more popular on Social Media, Instagram has grabbed the eye of a large number of brands. It has turned out to be a powerful marketing tool for businesses looking to grow their online presence and the visibility of their products. Let's have a look at top key benefits to learn more about how you can profit from using Instagram as part of your marketing strategy.
A Visual Platform
According to research, people remember 80% of what they see, 20% what they read and 10% of what they hear. Being a photo-centric platform, Instagram has more visual effect on people's memory than any other social media platform, since it mainly contains photos and videos with text, yet text is not mandatory.
Engagements on visual content have become a great opportunity for marketers to showcase their businesses. Having a visually interactive platform presence will enable your audience to remember your brand more, and engage them with your content. Both of these elements accelerate your Instagram audience one bit nearer to a purchase.
More Engaged Audience
The reach of Instagram posts is more than any other social media platform. Though Facebook has more popularity but statistics show that engagement on posts is highest on Instagram. Brands on Facebook do not reach all of their followers per post whereas on Instagram they reach 100% of their followers. More impression or reach means your post will get more engagement.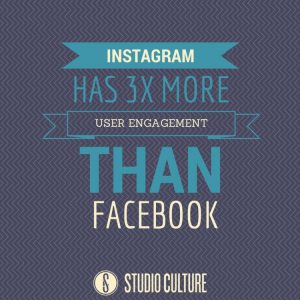 Since visual content is more engaging, you can highlight your products through photos and showcase your services through videos. You can even show your company's culture or behind the scenes aspects of your business to engage your audience.
Improved Sales
Sales are what all businesses are actually striving for. And this is why marketers are looking into different platforms or mediums and it's no different for Instagram. Trying to figure out a way to boost sales is probably why you are reading this.
Product placement on Instagram creates great emphasis on sales. The update with "Shoppable Posts" allows businesses to add tags on the products in images along with links directing to product description, price and call to actions. This update allows businesses to attract more audience to perform an action, generate leads and eventually convert them into customers.
Reach New Audience
Game of hashtags is what letting people discover new businesses on Instagram. Just like other platforms, when someone includes a hashtag in a post on, he/she can view all of the photos that have been shared using that particular hashtag.
Hashtags are keywords that tell what your post is about. If someone has a barber shop then using a hashtag like #menstyling is a great way to attract the potential audience that shares a similar passion. In addition to hashtags, Instagram has introduced the "Discover" tab to help people find what they are more interested in. Using right hashtags will separate you from the crowd, lead potential audience to your Instagram business profile and let you connect with them.
Fuel Other Marketing Channels
One of the great benefits of content on Instagram is you can share it across almost all of marketing channels. Data or information collected from Instagram can be used for other marketing campaigns on different channels.
Cross sharing and promoting on other platforms is another way of reaching more audience, extending your campaigns and compelling your existing audience to follow you on other platforms as well. You can also re-target your audience from Instagram to your Facebook or website, promote your other marketing campaigns or contests, going live on any other platform and use Instagram content for your marketing campaigns.
Conclusion
The internet is flooded with different kind of social media platforms and all provide their own marketing perks. While building an Instagram profile requires a lot of hard work but the results you get in the end are worth the effort.