First Female Mountaineers Scale Summit of Shifkteen Sar in Shimshal Valley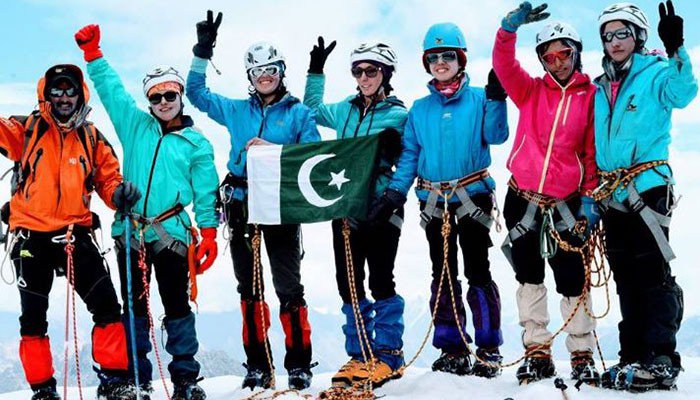 On Tuesday, a group of 6 girls were able to set a new record and reached the summit of 5300m Shifkteen Sar in Shimshal Valley, Hunza.
The group is now considered the first female team to have reached the top and climbed up from the peak's north side.
The team included Hafeeza Bano, Afasana Shahid, Shakeela Numah, Nadeema Sehar, Samreen Afiyat, and Zubaida Waheed, all of whom are students of Shimshal Mountaineering School.
The young girls set a world record by scaling the 6,080-metre Manglessar peak in the Shimshal valley in Karakoram mountain range.
The 13, 14 and 15 year olds, Amina Hanif, Maryam Bashir, Siddiqa Batool respectively, are granddaughters of the famous mountaineer Little Karim.
The girls were accompanied by their grandfather on the incredible summit. Others included nine climbers and four foreigners.
The girls reached Manglessar peak on July 24th. Their expedition began on July 16.
According to the girls grandfather, Little Karim, who is an internationally renowned mountain climber, he began the campaign in order to encourage more women from Gilgit-Baltistan to take interest in the field of mountaineering.
Karim himself, had set the world record of carrying 50 kg (110 lbs) over 8,000 meters (26,240 Ft) on his back. He has also had the honour of climbing Mount Godwin-Austen at 8,611 meters (28,251 ft) above sea level nine times.