Emirates Unveils Its First-Ever Full Aircraft Livery To Promote Expo 2020 Dubai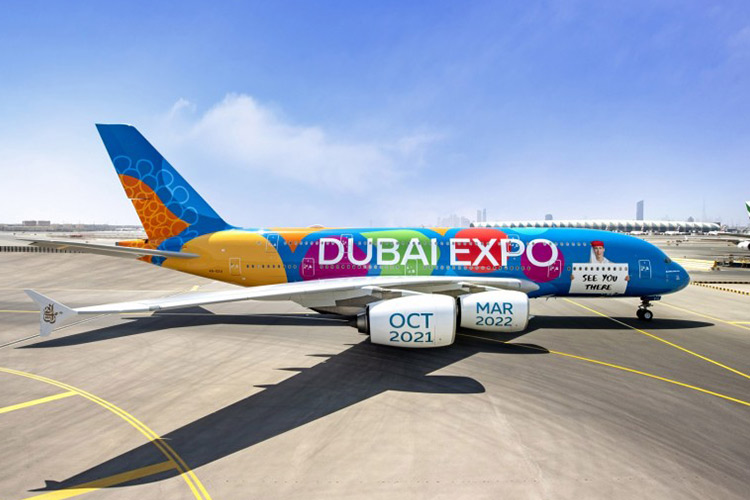 Emirates, the Premier Partner and Official Airline of Expo 2020 Dubai, on Tuesday revealed a head-turning A380 livery dedicated to further carrying the global event's messages worldwide.
A bold departure from the airline's traditional white and gold paint scheme, this bright blue aircraft livery features large-scale graphics in vivid green, orange, pink, purple and red, which run across the fuselage and all the way up to the tail and fin interlaced with the distinct ring-shaped Expo 2020 Dubai logo.
Special 'Dubai Expo' and 'Be Part of the Magic' messages run across both sides of the A380 fuselage. The engine cowls also carry the Expo 2020 Dubai messages and dates of the event.
In addition, the brave Burj Khalifa stuntwoman who appeared in the recent viral Emirates ad, carries an invitation to visit the event on both sides of the aircraft, holding a message board that says: 'See you there' and 'Dubai Expo Oct-Mar 2022.'
Features Of The Livery
On both sides of the aircraft fuselage, you will find the message, 'Dubai Expo' and 'Be Part of the Magic'. Moreover, on the engine cowls, you will find 'Expo' and Dubai' on the one side of the aircraft, and the dates – Oct 2021 and Mar 2022 – on the engine cowls of another side. While the Emirates logo is not as visible on this aircraft, you will find its signature to be visible indeed. Near, the head of the aircraft, you can see the traces of the airline's most recent campaign as a decal.
The campaign had a brave stuntwoman dressed as an Emirates' air hostess. She was standing at the top of Burj Khalifa holding a placard. Using that imagery, the airline painted the picture on the aircraft, and the board read, "See you there" and "Dubai Expo Oct 2021- Mar 2022".
The aircraft will stay like this until the end of the event.
Emirates Does It All In-House
An interesting fact revealed was that the livery was entirely designed, painted, and installed by the airline's in-house team. In fact, the stencils needed for the job were also printed and cut by the team.
The project was completed in 16 days and will go around promoting the event from today, September 29th as the flight takes off for Los Angeles.
Stay tuned to Brand Voice for more news and updates!