Coca-Cola Unveils New 'Hug' Logo As Part of Refreshed Brand Philosophy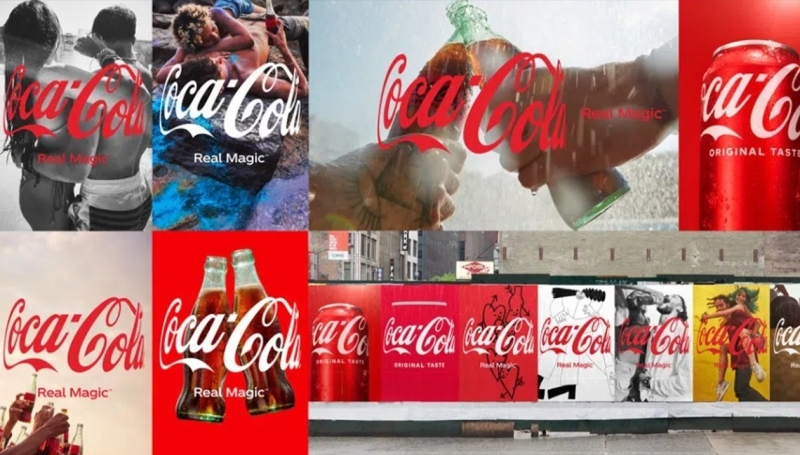 Coca-Cola has unveiled a new global brand philosophy and platform called "Real Magic", which invites everyone to celebrate the real magic of humanity. This marks the first new global brand platform for Coca-Cola since 2016, amidst its current global creative and media review, and features a refreshed visual identity. A new perspective on the Coca-Cola logo will also be used across Coca-Cola's marketing. Inspired by its representation on Coca-Cola's iconic packaging, the "Hug" logo lifts the curved Coca-Cola trademark on the bottle and can labels to provide a visual signature that will embrace and frame moments of magic across Coca-Cola's communications.
Collaborating with a variety of artists, photographers and illustrators to bring the concept of "Real Magic" to life, Coca-Cola said these individuals bring moments of everyday magic to life in ways that are inclusive and collective, yet also individual and expressive. Design partners include Wieden+Kennedy London, KnownUnknown and Kenyon Weston.
CMO Manolo Arroyo explained that through the Real Magic platform, the company aims to engage people through an ecosystem of unique and ownable experiences. "We're at an inflection point. The last 18 months have disrupted every aspect of life and presented us with a once-in-a-generation choice to go back to a binary, black-and-white way of seeing the world or help make the world a better place. 'Real Magic' is about creating a movement to choose a more human way of doing things by embracing our unique perspectives," he added.
As an added push, Coca-Cola also launched a campaign called "One Coke Away From Each Other". The film poses the question of what if Coca-Cola, as a symbol of togetherness, could bridge universes meant to be apart to create "Real Magic". Done in collaboration with ad agency BETC London as well as film director Daniel Wolfe and gaming and CGI specialist production partner Mathematic, the film also features three well-known gamers – DJ Alan Walker, Team Liquid's Aerial Powers and Average Jonas.
Featuring social, digital and out-of home executions, Coca-Cola has chosen to adopt different methods of consumer engagement in various regions for its latest campaign. In selected markets, Coca-Cola launched a code hunt where customers could win prizes, including gameplay sessions with celebrity gamers. The beverage company has also collaborated with the brand partnership studio at interactive livestreaming service, Twitch, to unlock ten codes with viewers on the Twitch channel.