"ChalayThaySaath" To Release Nationwide on 21st April 2017: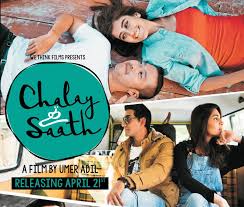 [Karachi, 8thMarch 2017]: "ChalayThaySaath", the highly awaited upcoming feature film produced by We Think Films in association with Hot Water Bottle Films, is ready to hit cinemas across Pakistan on April 21st, 2017.
ChalayThaySaathis a romantic-drama filmwhich has been directed by UmerAdil, produced by BeenishUmer withSheikh Shiraz Mubashir as the Executive Producer. The ensemble star cast includes SyraShahroz,Kent S. Leung, BehroozSabzwari, Mansha Pasha,Zhalay Sarhadi,ShamimHilaly, Osama Tahir,Faris Khalid and SherbaazKaleem.
ChalayThaySaath is a feel-good film that depicts a journey of growth, friendship, love and loss, set in beautifulGilgit- Baltistan reagion in the north of Pakistan.The film revolves around the character of Resham; a doctor who is on a trip home with her friends who have never been there before.
"We are very excited to release this film all over the world and with high hopes that people will not only enjoy it for its story but also appreciate the attempt at highlighting the Pak – China Relationship along with the exploring the immense, natural beauty of our country which should be known around the world for highlighting the positives of Pakistan," shared Sheikh SherazMubashir the Executive Producer of the Film.


"We have received immense love and support from people after the launch of the trailer and we feel proud to present ChalayThaySaath, as it connects with the everyday lives of people like you and me. This film will be a treat for Pakistani cinemagoers and it is sure to keep the audience engaged," shared BeenishUmer.
"ChalayThaySaath is not just a film, it is a leap for our film industry as we have international actor Kent S. Leung acting alongside our most talented artists such as SyraSheroz, Mansha Pasha among others who have done justice to their characters and made this film possible. We hope that this film reaches out and touches the hearts of people and lends support to our film industry in Pakistan," said UmerAdil.
ChalaythaySaath would not have been possible without the support and collaboration of our brand partners, Pepsi and Soneri Bank.
"Pepsi's New Mantra "Jee Lay Har Pal" stands for making the most out of every moment. It's about having a good time with your friends and loved ones and make every moment count. The JLHP philosophy implores one to leave no dream unfulfilled and to always do what our heart desires. It tells you to forget all your inhibitions, personal or social, and live every day to its fullest. This makes the Pepsi collaboration with 'ChalayThaySaath' a perfect fit. This movie is a beautiful story that celebrates friendship and relationships through a fun filled road-trip featuring a group of fresh graduates. The story revolves around individuals with vibrant personalities who are ready to take control of their lives and followtheir hearts. This movie also highlights some of the most breathtaking views of Hunza and Gilgit.Pakistani Cinema has produced some great work in the recent years and Pepsi has always appreciated all the amazing work that is being done by our very own talented people,"shared by Pepsi
"With our vision to help the society grow, we hope to leverage this fusion positively and not only portray theenchanting northern side of Pakistan but also build good relationships on China Pakistan Economic Corridor(CPEC),"  shared Ms. Fariya Zaeem, Head of Marketing of Soneri Bank


Hammad Sohail, Head of Marketing; Levi's®, Dockers® and Denizen® said "Since the invention by Levi Strauss in 1873, we have been capturing the imagination and loyalty of people for generations and has progressed into the world's leading Jeans wear Brand across the globe. It's been a great journey to support and have worked with the extremely talented and hardworking team of 'ChalayThaySaath' by being the official wardrobe partner for the film. Levi's® has always been a pioneering brand in supporting upcoming musicians and artists and have supported Pakistani movies in the past and will continue to extend our support for the revival and success of our film industry.