Begum Kulsoom Nawaz Passes Away in London, Condolences Pour in On Social Media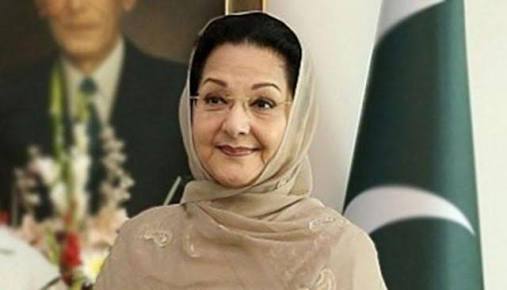 Begum Kulsoom Nawaz, wife of imprisoned, ex Prime Minister Nawaz Sharif, has passed away in a London hospital today.
Kulsoom Nawaz was suffering from cancer and had been on ventilator for the past several month at London's Harley Clinic.
The news was confirmed by PML President Shahbaz Sharif.
میری بھابھی اور میاں نواز شریف صاحب کی اہلیہ بیگم کلثوم نواز اب ہم میں نہیں رہیں، اللہ تعالٰی انکی مغفرت فرمائے۔
ﺇﻧَّﺎﻟِﻠّٰﻪ ﻭﺇﻧَّﺎﺇﻟَﻴْﻪِ ﺭَﺍﺟِﻌُﻮْﻥ

— President PMLN (@president_pmln) September 11, 2018
According to sources, the Sharif family has decided to bring back Begum Kulsoom's body to Pakistan.
Begum Kulsoom was diagnosed with lymphoma (throat) cancer in August 2017.
Condolences have also been pouring in on social media as soon as the news of her death had spread quickly
https://twitter.com/adnanrasool/status/1039465941233541120
BREAKING NEWS: Begum Kulsoom Nawaz passed away. Ina lilaa he wa inna elehe rajeon. #Condolences

— Abdul Ghaffar (Replay, Dawn News) (@GhaffarDawnNews) September 11, 2018
Deeply saddened to hear the news of Begum Kulsoom Nawaz's passing. May ALLAH rest her soul in peace and give enough strength to family to cope with this huge loss.

Inna Lillahi wa inna ilayhi raji'un

— Faisal Javed Khan (@FaisalJavedKhan) September 11, 2018
From PM Office (happening now, as I'm here): @ImranKhanPTI has expressed great sorrow at Begum Kulsoom Nawaz's death. He was told about her demise while chairing a meeting on Local Govt, just moments ago. He promised legally-bound facilitation by the gov for the Sharifs.

— Wajahat S. Khan (@WajSKhan) September 11, 2018
I express my sincere regrets on the sad demise of Begum Kulsoom Nawaz. My condolences to the Sharif family on this loss. May her soul rest in peace

— The President of Pakistan (@PresOfPakistan) September 11, 2018
My deepest condolences to @MaryamNSharif and her entire family. Begum Kulsoom Nawaz was a courageous lady who endured a lot. Praying for her and for the family

— Aseefa B Zardari (@AseefaBZ) September 11, 2018
Sad to learn of Begum Kulsoom Nawaz's death. She was a courageous woman of great dignity and confronted her disease with fortitude. My condolences and prayers go to the Sharif family.

— Imran Khan (@ImranKhanPTI) September 11, 2018
Deeply saddened to hear of Begum Kulsoom Nawaz's death. She was an exceptional woman who faced testing times with unwavering resilience and whose efforts for democracy will be remembered. We mourn her passing deeply. May she rest in peace.

— SenatorSherryRehman (@sherryrehman) September 11, 2018