Allama Iqbal's New Sculpture Placed in Lahore Park Draws Criticism From Netizens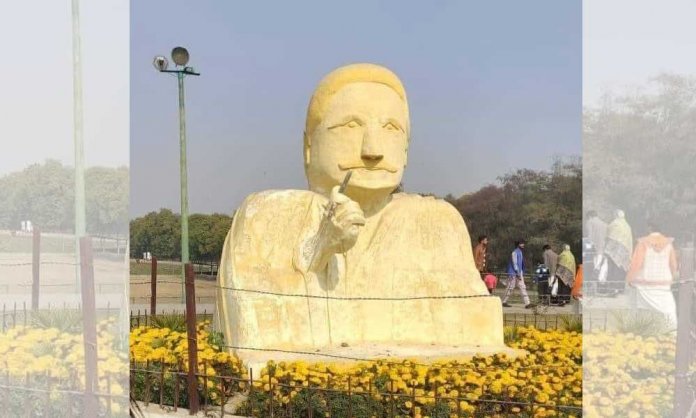 A new sculpture of Pakistan's National poet and one of the greatest in the world, has been placed in the Gulshan-e-Iqbal park Lahore recently.
The statue is getting massive criticism from netizens as the statue shows no resembles to the real face of the Urdu poet.
The images of the sculpture started appearing on social media from Tuesday morning, where people are asking the authorities to remove it from the premises as it is a display of insult rather than a tribute to the great scholar.
The people are also demanding that the creator of this statue should not be allowed to make sculptures again, and that the statue should be hanged.
Some people have termed the carving an 'evidence of nepotism' while others requested Deputy Commissioner to remove the sculpture as it's a disgrace to see this.
While some are asking the government to share the details of how much money was spent on this "useless" statue and who was given the contract.
Don't have to think hard what corruption and incompetence looks like. pic.twitter.com/N8WhVyJdx4

— M. Jibran Nasir ?? (@MJibranNasir) February 2, 2021
https://twitter.com/mudassir_israr/status/1356482436192997376
I just can't believe this ? I just came to know that it is Allama Iqbal's sculpture in Gulshan-e-Iqbal Park Lahore ?????
Who did it? I mean this kind of disaster ??
Who approved it? Who made it? @UsmanAKBuzdar pic.twitter.com/zp8K5Bn6B7

— Madiha Masood (@madiha_masood) February 2, 2021
Now a serious question. How much money spent by the govt over this tunda Iqbal. Who was given the contract and in how much. Why such an eyesore was accepted? We have wonderful artists in Lahore. It's where NCA is located. Who has done this shoddy job and how much was he paid. pic.twitter.com/TWN0XuoMP5

— Sherry (@CherieDamour_) February 2, 2021
What do our readers think about this statue? Do share your thoughts in the comments section below.