Abdullah Kadwani & Asad Qureshi Joins GEO Holdings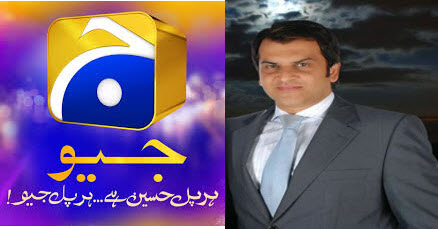 Mr. Abdullah Kadwani has taken charge as the Group Managing Director Entertainment  and Mr. Asad Qureshi shall be the Chief Operating Officer (COO) of Geo Entertainment Holdings. They will be responsible for all the content of GEO's Entertainment TV channels including GEO and Kahaani, Production House, GEO Films, Fire Records and all other entertainment properties of GEO Network.
Abdullah Kadwani is a famous Pakistani actor, model, director and producer. He started his career as a model. He had over 25 TV commercials/Adds to his acknowledgment to from 1991 – 1995. He soon ventured into productions & directions. During 1997 – 2001 he directed three serials in which two won the "Best Serial Awards". He has also engaged in media and broadcast marketing and sales. In the year 2000, he launched his flagship company, Icon Media. He also worked as the CEO of Media Max and MSR of one of the private sector Pakistani C&S TV network. Abdullah formed an entertainment company by the name of 7th Sky Entertainment with famous actor & producer Humayun Saeed in 2005 which is now regarded as the top production house in Pakistan. Besides marketing and providing consulting to over 50 software for television in the categories of lifestyle shows, magazine shows, drama serials, live events and special plays, Kadwani has also produced under the flag of Media International, 3 serials in Pakistan, whereas producing "live telecast" events, special plays, and lifestyle shows. He is considered as an actor & talented producer in Pakistan. His acting range consists of 16 serials and 50-55 special plays along with telefeatures aired across different Television Channels in Pakistan. Abdullah Kadwani has been a receiver of numerous awards including "Best Producer" in 1997 for drama serial "Panchawan Mausum" NTM Awards. He also received awards for best producer, best actor, Lux style award and PTV National award for his entire services to Pakistan showbiz.


Asad Qureshi has extensive experience and has played an instrumental role in bringing innovation to the Pakistan Media Industry. His passion for his work and belief in continued learning led to his selection in the AMP- Media Management Program at IESE Business School and UCLA. With his attention to details he identified the gap and true potential in the satellite industry enabling him to become part of the core team that launched the first Satellite channel- Indus TV Network in Pakistan. In 2001, he moved on to join Media Max as Director Operations, which became Pakistan's premier and pioneering broadcast marketing company. Since 2004 he has been the Director and founding partner of 7th Sky Entertainment, Pakistan's premier broadcast and filmed Entertainment Company, which has proudly bagged several awards and accolades in different categories for its various projects.
7th Sky Entertainment has produced over 100 projects, which range from drama serials, soap, tele-features and branded content for clients making it the largest independent content producing company in Pakistan. Much of GEO's success has been contributed by 7thSky.
This will definitely boost the viewership of Geo Entertainment & Geo Kahani for sure, keeping in view the content record of 7th Sky.
Brand Voice wishes all the best to GEO, 7th Sky, Asad Qureshi & Abdullah Kadwani.