Zoya Nasir Calls Off Engagement to Christian Betzmann Over His Offensive Comments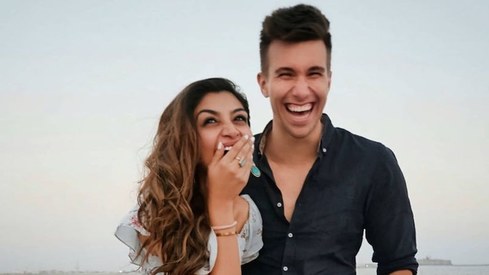 Hania actor Zoya Nasir has called off her engagement to v-logger Christian Betzmann following a massive internet controversy that erupted following comments he made about Palestine and Pakistan.
The two got engaged earlier this year after Betzmann proposed to her in the Bahamas. "It's with a heavy heart I'm announcing that Christian Betzmann and I are no longer engaged to be married. His sudden change in stance towards my culture, my country, my people and insensitivity towards my religion has lead me to take this difficult and irrevocable decision," she wrote.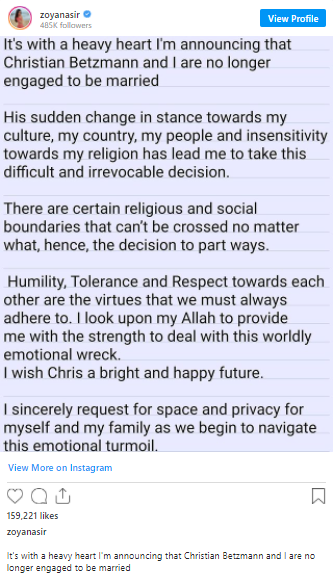 She asked for herself and her family to be allowed privacy at this stage, saying they need the space as they "begin to navigate this emotional turmoil."
Betzmann's opinions on the Israel-Palestine issue had brought him under fire on the internet. With criticism pouring in, he had a falling out with some Pakistanis on social media, and when he criticised Pakistan, users were enraged. He invited criticism when he commented on Pakistanis protesting for Palestine, saying, "Social media will never win against government and politics.
"Sharing something which is all over mainstream media won't make any difference," he said.
Betzmann was critical of those raising their voice for Palestine. "Stop feeling guilty for others when you're littering your own country, not helping your own people and community."