Xiaomi 12 Series Redefines Flagship Category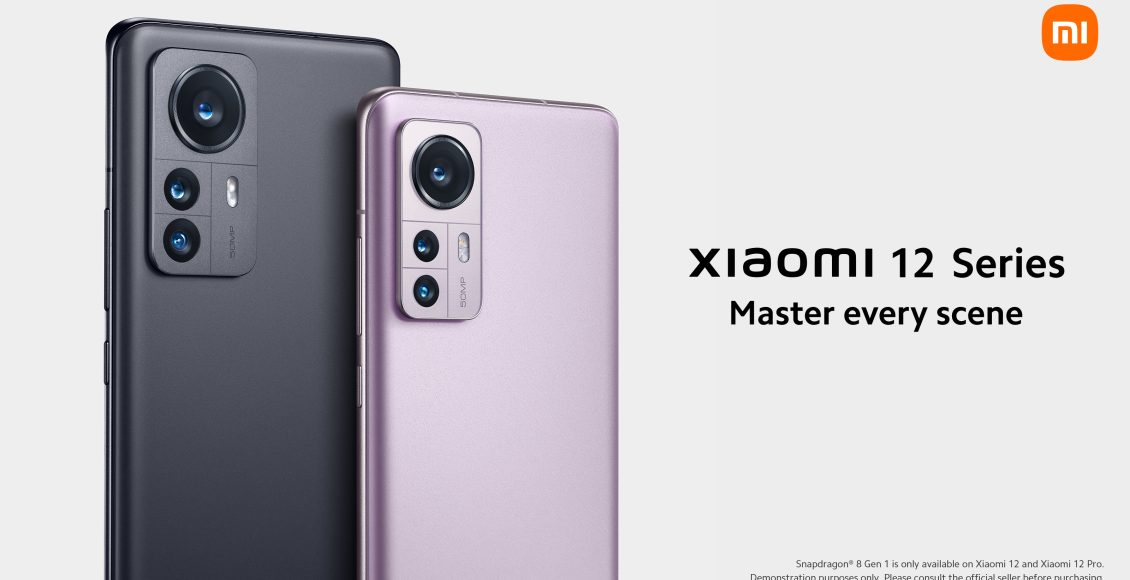 Xiaomi has launched the all-new Xiaomi 12 Series for local markets, which includes two ground-breaking devices: the Xiaomi 12 Pro and Xiaomi 12. Xiaomi 12 Series is a cutting-edge videography studio and entertainment powerhouse designed to empower consumers all over the world. It features amazing breakthroughs in Xiaomi's AI algorithm, flagship processing power, and an overall enhanced experience.
Capture cinematic shots at any time
The Xiaomi 12 Series allows users to capture studio-quality footage in any situation, including tricky lighting situations and moving objects. Both phones include a pro-grade triple camera array for diverse photography, with the Xiaomi 12 Pro and Xiaomi 12 including a large 50MP main wide-angle camera with 8K recording capability. The Xiaomi 12 Pro is distinguished by its cutting-edge triple 50MP array, which includes a Sony IMX707 ultra-large primary sensor. With faster focus speeds and improved colour accuracy, this sensor is capable of capturing enormous volumes of light and enabling sophisticated photography capabilities. For capturing life from diverse perspectives, the Xiaomi 12 has a 13MP ultra-wide-angle camera and a 5MP tele macro camera.
The Xiaomi 12 Pro and Xiaomi 12 not only have excellent hardware but also advance Xiaomi's unique AI algorithms. These advancements make it easier than ever for users to capture every moment exactly how they want it, even in low-light situations or when recording moving subjects. Xiaomi ProFocus recognises and follows objects intelligently, preventing blurry or out-of-focus images of moving or veiled subjects. Eye and facial autofocus capabilities are also included in these advances. Xiaomi's patented algorithms allow Ultra Night Video to record video even in extreme low-light conditions, resulting in dark, atmospheric photos that are more crisper than ever. One-click AI Cinema, which is available on both smartphones, provides several creative possibilities for show-stopping video editing, including Parallel World, Freeze Frame Video, and Magic Zoom modes.
Flagship processing, unprecedented performance and power-efficiency
A flagship experience necessitates a flagship level of performance. Qualcomm® SnapdragonTM smartphone platforms power the Xiaomi 12 Series. The Snapdragon® 8 Gen 1 processor found in the Xiaomi 12 Pro and Xiaomi 12 is Qualcomm's most advanced mobile platform. This CPU, which is based on a 4nm technology, improves GPU graphic rendering capabilities by 30% and energy efficiency by 25% over the previous iteration. Both devices have UFS 3.1 for fast loading and data transmission, as well as LPDDR5 RAM for memory rates of up to 6,400Mbps. The Xiaomi 12 Series features a high-performance cooling system that is bolstered by a super-large vapour chamber and many layers of graphite to provide industry-leading cooling performance.
All-around elevated entertainment experiences
Users of the Xiaomi 12 Series may not only capture every event in exquisite clarity, but they can also revisit those experiences in breathtaking detail thanks to an outstanding entertainment experience. Both devices have an AMOLED Dot Display with TrueColor compatibility and an AMOLED Dot Display rated A+ by DisplayMate. The display is scratch-resistant Corning® Gorilla® Glass Victus® and supports Dolby Vision®, the industry's leading imaging technology that brings your entertainment to life with brilliant colour and details for enhanced peace of mind. HDR 10+ is also supported by the Xiaomi 12 Series. SGS Eye Care Display Certified, the Xiaomi 12 Pro shows concern for users' long-term eye health throughout marathon sessions. Meanwhile, Xiaomi's flagship display, the Xiaomi 12 Pro, redefines flagship viewing, scrolling, swiping, and sliding. The device's 6.73-inch WQHD+ display uses AdaptiveSync Pro to intelligently change the dynamic LTPO display between 1Hz and 120Hz based on content.
With over 68 billion colours on 6.28-inch full-HD+ displays, Xiaomi 12 is the company's most colourful smartphone to date. Both have 120Hz AdaptiveSync for a high-definition, vivid, and flicker-free display that captures every detail. Without professional audio, no film experience is completely complete. The Xiaomi 12 Series includes SOUND BY Harman Kardon, which offers an immersive audio experience with Dolby Atmos®, giving rich detail, clarity, and realism across all of your favourite content. The quad speakers on the Xiaomi 12 Pro – two tweeters and two woofers – produce crisp details and a wide range of sound. Xiaomi 12 has a balanced stereo sound system that is perfect for gaming or watching videos. Xiaomi's 12 Series includes MIUI 13, which was introduced globally earlier this year to further improve the core user experience. Faster storage, more efficient background processes, better processing, and longer battery life are all included in the upgrade. Xiaomi's own Liquid Storage, Atomized Memory, Focused Algorithms, and Smart Balance are among the new features of the improved experience.