Video of Robbers Returning Stolen Valuables To Delivery Boy Goes Viral…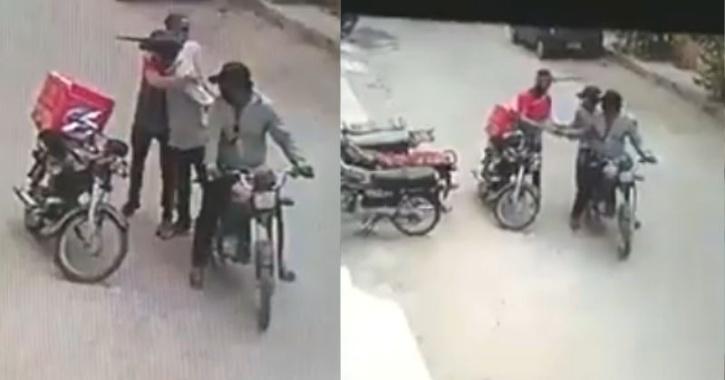 In a latest video that has gone viral on social media, two robbers can be seen trying to steal money from a delivery boy (of a renown brand). However, the reason this video has gone viral is because what appeared to be a change of heart in the robbers regarding the valuables.
In the clip, the delivery boy of a famous delivery service can be seen being mugged by two men on a bike in the street of the city. The footage displayed the delivery man returning to his bike after performing a successful delivery. He gets held at gunpoint by the robbers who took away his cash, phone, and other valuables.
As soon as his valuables were taken from him, the delivery boy could be seen weeping and mumbling something to the robbers.
At this, the criminals returned all the valuables they had snatched from the rider and hugged him.
Both the robbers hugged the delivery boy and could be seen helping the food delivery rider and soon fled the crime scene. The delivery rider also sat on his bike and left the scene after getting hold of his almost stolen items.
The clip soon went viral on social media with police officials ensuring that the video was of Karachi. However, they are yet to discover that in which police station's jurisdiction the crime occurred.
Watch the full video below
https://www.youtube.com/watch?v=59dAk5-4bik&feature=emb_title
Have something to say about this post? Do share your thoughts in the comments section below.