Veena Malik Releases New Single, Pays Tribute to Pak Armed Forces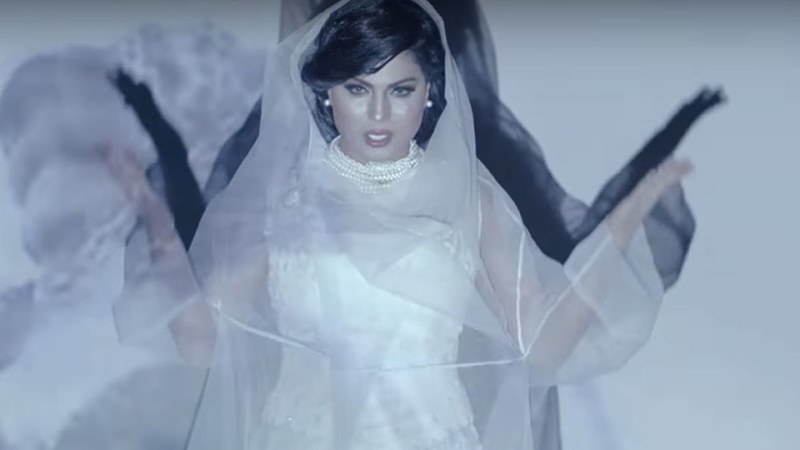 On Monday, at a press conference which was held in Karachi, Veena Malik has finally released her much awaited comeback song.
The song which has been titled Aye Dushman-e-Watan, pays tribute to Pakistan's armed forces. The video of the song features Veena Malik herself, singing, donning white shalwar kameez, while a screen behind her plays several footage of military operations in Pakistan.
The lyrics of the song have been penned by retired lieutenant colonel Kazim Hussain Shah (retired) and who has been honored with the Tamgha-e-Imtiaz (military).
At the launch of her comeback song video, Veena was seen to be delighted and ecstatic to garner the media attention all to herself and also thanked everyone who showed up for the event.
Veena is recorded to have said:
"First of all I'd like to say that the press' love and romance for me has not decreased at all, it has only grown. Speaking in regards to this project, I would like to say that I am very excited, happy and proud to share this project with you.
Veena openly expressed her gratitude towards the people of the country and stated:
"In my 17-year career, this country has given me a lot: respect, a name, glory, and the love of millions of people. I can't thank you enough for the love."
She also commented on the significance of the song for her, which pays a tribute to the army and said:
"As an actor, as an entertainer if I can express my love for the country through a tribute, it won't be enough. This is a small effort from my part that I've made this anthem and it's my wish that in the coming years, I can completely pay back this country. All my work whether it's in showbiz, or through this anthem, I would like to dedicate my future to this country."
The tune as well as the lyrics of the song are definitely catchy and we might as well say, a good effort on Veena's part to strike a cord of patriotism in the people of Pakistan.
The new song, additionally and definitely also marks Veena Malik's comeback into showbiz. It seems unlikely that she'll be leaving again.
Watch the video of Aye Dushman-e-Watan right here: 
https://www.youtube.com/watch?v=sbkvQXGPVbY