Urwa Hocane Slams 'Veere di Wedding' Star's Comments Against Pakistan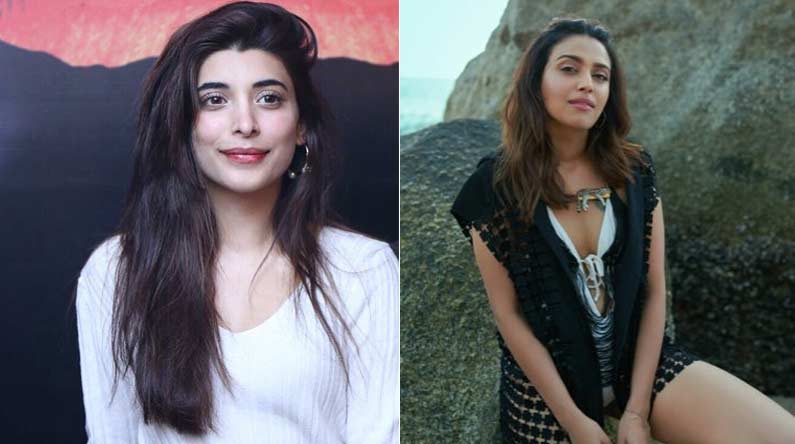 In case somebody has been living under a rock and didn't know already, 'Veere Di Wedding' was banned in Pakistan and one of the cast members, Swara Bhasker, in response made blunt remarks that Pakistan is run by Sharia law and that it is a failed state.
In an interview when asked, what she thought about the recent ban of the film Veere di Wedding in Pakistan, the actress said: "And why should we hold Pakistan, a failing state as a measure of self-worth?"
To this our very own star Urwa Hocane took to social media expressing her thoughts regarding the Tanu Weds Manu actress' comments.
Urwa reminded Bhasker about her comments made in 2015, where she called Pakistan the "best country that she had ever visited".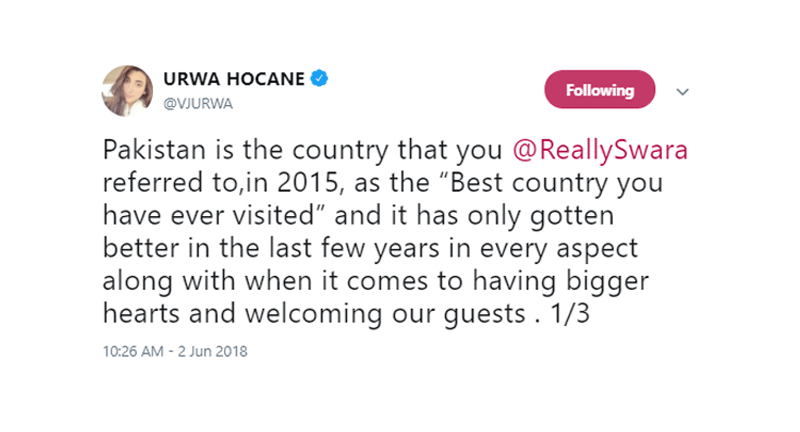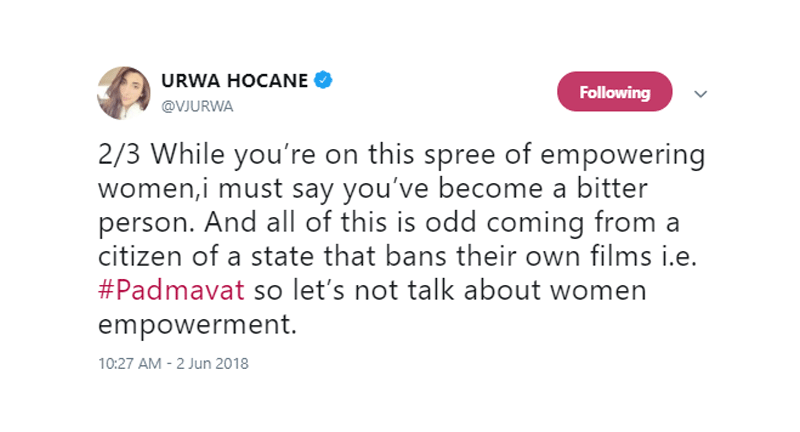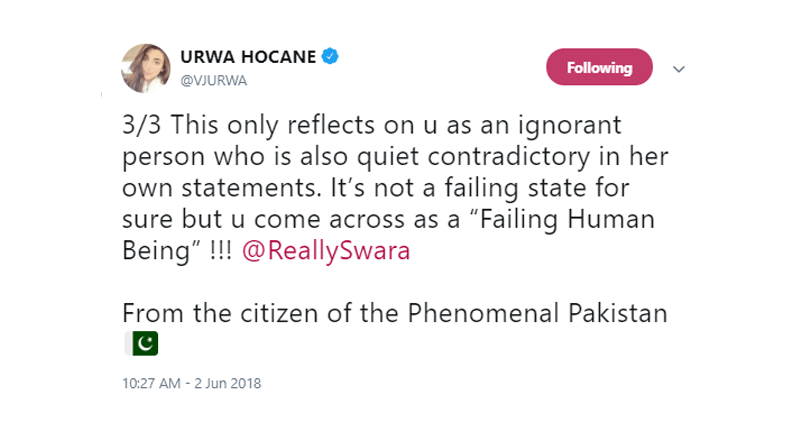 While Swara garnered despise and hate over social media 
Can you take photos like these in-front of a mosque in a 'failed… nonsecular state .. run by shariah law'? Swara Bhasker? pic.twitter.com/dD0fFvsF3j

— SIR .. (@SirJohnRoe) June 2, 2018
I was going to watch #VeereDiWeeding but @ReallySwara's ignorant comments about Pakistan turned me off. You can't talk shit about a country & then apologize to your Pakistani fans and assume it makes everything better. @sonamakapoor cast smarter women next time #SwaraBhasker

— Sidraandco (@Sidra_a21) June 3, 2018
So because Pakistan banned a Bollywood movie for being too vulgar we are "a failed state" but in India where BJP was offering reward money for bhansali & deepika's head as well as violently protesting the movie Padmavat is completely normal. Ok. #VeereDiWedding #SwaraBhasker

— komal (@koms92) June 3, 2018
Urwa, on the other hand, has won Pakistani hearts with her tweets
https://twitter.com/ItsKinzaaa/status/1003012814972342272?ref_src=twsrc%5Etfw&ref_url=https%3A%2F%2Fwww.mangobaaz.com%2Furwa-hocane-thrashed-swara-bhasker%2F
"Failing Human Being " very rightly said @VJURWA Bulls Eye ??

— Ayesha Sheikh (@AyeshaSheikh21) June 2, 2018
Urwa has literally owned Swara left right centre with her tweet.

— aنas khaن (@AnasMagnificent) June 2, 2018
Im sold urwa
Bht acha jawab diya
God Bless you

— r sheikh (@Rcsheikh) June 3, 2018