Supermodel Mehreen Syed Stumbles on Ramp, Thanks Her Fans for All Their Love And Concern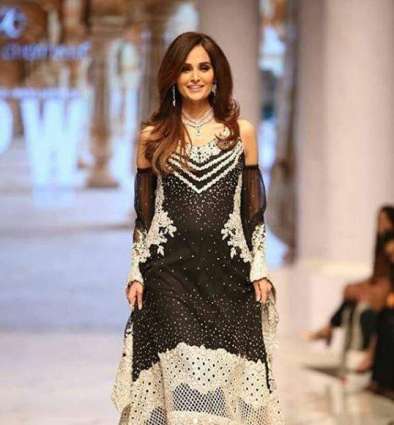 It was only recently when one of Pakistan's most recognizable faces and Supermodel Mehreen Syed fell while taking a walk on a ramp for Pakistan Fashion Week and that too while expecting a child!
Mehreen received a massive out-pour of love and concern, not just from her friends and colleagues in the fashion fraternity but also from her fans, all of whom who considered her fall unfortunate, yet her confident rise as a proud moment for how calmly she handled it.
Confirming the news of her pregnancy in a Twitter post, Mehreen thanked everyone who inquired about the health of her and child after the fall.
"I would like to announce that by the grace of God, I am expecting a child," she wrote.
"After I slipped, the love and concern from the audience, fans, colleagues, and friends for me and my baby was amazing. So grateful and would like to say that we both are fine! Thank you all for your love!"
I would like to announce that by the grace of God, I am expecting a child.
After I slipped, the love and concern from the audience, fans, colleagues, and friends for me and my baby was amazing. So grateful and would like to say that we both are fine! Thank you all for your love! pic.twitter.com/OdjzSq1a0e

— Mehreen Syed (@iMehreenSyed) October 2, 2018
Here's how people are reacting to her post on Twitter, that is, with more love
Mehreen you're such an inspiration for embracing your role as a mother as well as your individuality as a model. ?

— AHI (@aamnaisani) October 3, 2018
Mehreen glad you both are okay ?

— Nighat Dad (@nighatdad) October 2, 2018
You just empowered a whole lot of ladies by putting up this video of you gracefully picking yourself up and completing your walk. Hats off and may Allah give you a healthy baby In sha Allah ! You're special.

— Ebba Qureshi (@EbbaQ) October 2, 2018
@iMehreenSyed so happy to hear everything is OK!!! I was remembering the same that happened in ur first pregnancy too!!! Remember during the finale walk????

— NADIA HUSSAIN (@NADIAHUSSAIN_NH) October 2, 2018
Aaaah congratulations! Don't forget Naomi Campbell also fell and got up on the ramp for Vivienne Westwood, you did well! x

— Zaid Ansari (@ZaidAnsar1) October 3, 2018